Temperament: How Music Became a Battleground for the Great Minds of Western Civilization (Paperback)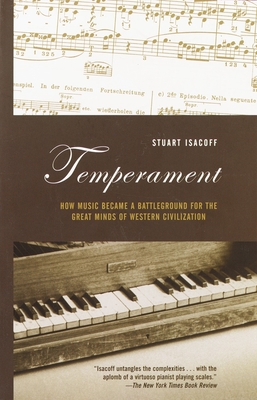 Description
---
Few music lovers realize that the arrangement of notes on today's pianos was once regarded as a crime against God and nature, or that such legendary thinkers as Pythagoras, Plato, da Vinci, Galileo, Kepler, Descartes, Newton and Rousseau played a role in the controversy. Indeed, from the time of the Ancient Greeks through the eras of Renaissance scientists and Enlightenment philosophers, the relationship between the notes of the musical scale was seen as a key to the very nature of the universe.

In this engaging and accessible account, Stuart Isacoff leads us through the battles over that scale, placing them in the context of quarrels in the worlds of art, philosophy, religion, politics and science. The contentious adoption of the modern tuning system known as equal temperament called into question beliefs that had lasted nearly two millenia–and also made possible the music of Beethoven, Schubert, Chopin, Debussy, and all who followed. Filled with original insights, fascinating anecdotes, and portraits of some of the greatest geniuses of all time, Temperament is that rare book that will delight the novice and expert alike.
About the Author
---
Stuart Isacoff is a pianist, composer and writer, and the founding editor of the magazine Piano Today. A winner of the prestigious ASCAP Deems Taylor Award for excellence in writing about music, he is a frequent contributor to The Wall Street Journal and many music periodicals. Mr. Isacoff is a featured lecturer at The Metropolitan Museum of Art in New York, where his series is entitled "The Language Of Music." He has given lectures and piano performances at many venues here and abroad, including The Chamber Music Society of Lincoln Center, The Verbier Festival and Academy, The Gina Bachauer Foundation, The Miami Piano Festival, The Portland Piano Festival, The Irving S. Gilmore International Keyboard Festival, the Juilliard School, Sarah Lawrence, Cal Arts, and Harvard University, and at such scientific institutions and conferences as the Los Alamos National Laboratory, the Bradbury Science Museum, the Sarzana (Italy) Festival of Mind and the Perimeter Institute for Theoretical Physics. His work in interdisciplinary studies has also brought him to such venues as the Vero Beach Museum of Art, where he lectured on links between kinetic art and music.Mr. Isacoff teaches a graduate course in the philosophy of music and an undergraduate survey in the history of Western music at the Purchase College Conservatory of Music (SUNY), and a course in the art of writing at St. John's University. He has also taught musical improvisation at William Paterson University and at festivals around the world. His written works include jazz-influenced compositions and instructional materials, published by Boosey & Hawkes, G. Schirmer, Warner Bros. Publications, Carl Fischer, and Ekay Music, Inc. His piano recitals often combine classical repertoire with jazz improvisation, demonstrating the threads that connect musical works created centuries and continents apart.
Praise For…
---
"Isacoff . . . untangles the complexities . . . with the aplomb of a virtuoso pianist playing scales." —The New York Times Book Review

"A thrilling story that is as accessible as it is absorbing. . . . This is a whirlwind tour through the history of Western culture, told with flair and grace." —National Review

"Immensely entertaining, original and informative. [Temperament's] most persuasive weapon is the unquenchable passion of its author." —The Economist

"Admirable. . . . [Isacoff] writes engagingly. . . . [about] a time when there existed a glorious synthesis of music and mathematics, and in the imaginations of scientists and philosophers and musicians it wove the entire universe into a grand design." —The New Republic

"Charming. . . . As much a whirlwind tour of Western culture's big ideas as it is a musicological investigation." —Los Angeles Times

"The pleasure here is that it gives readers a glimpse of the oceanic depths of musical metaphors and mysteries still unsolved by cognitive science and evolutionary psychology." —Wilson Quarterly

"A sweeping history of medieval and Renaissance European intellectual achievement, in which the question of tuning assumes a speaking part. . . . Temperament should appeal not only to music lovers but also to fans of cultural and scientific history." —Time Out New York

"An astounding and accessible journey through the culture-defining narrative hidden in arcane music theory. Isacoff does a wondrous job." —The Onion

"This lucid, humanist study is as much fun to read as a murder mystery." —San Jose Mercury News

"[Brings] together aspects of science, philosophy, history, poetry, religion, and music in a compact yet compelling narrative." —Library Journal