The Name of War: King Philip's War and the Origins of American Identity (Paperback)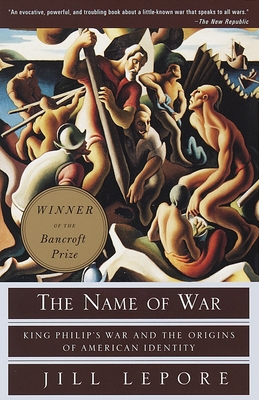 $19.00

Not in the store. We can order it and should have it in store in 3-5 business days.
Description
---
BANCROFF PRIZE WINNER • King Philip's War, the excruciating racial war—colonists against Indigenous peoples—that erupted in New England in 1675, was, in proportion to population, the bloodiest in American history. Some even argued that the massacres and outrages on both sides were too horrific to "deserve the name of a war."

The war's brutality compelled the colonists to defend themselves against accusations that they had become savages. But Jill Lepore makes clear that it was after the war—and because of it—that the boundaries between cultures, hitherto blurred, turned into rigid ones. King Philip's War became one of the most written-about wars in our history, and Lepore argues that the words strengthened and hardened feelings that, in turn, strengthened and hardened the enmity between Indigenous peoples and Anglos. 

Telling the story of what may have been the bitterest of American conflicts, and its reverberations over the centuries, Lepore has enabled us to see how the ways in which we remember past events are as important in their effect on our history as were the events themselves.
About the Author
---
JILL LEPORE is the David Woods Kemper '41 Professor of American History at Harvard University and a staff writer at The New Yorker. Her books include the New York Times best seller The Secret History of Wonder Woman and Book of Ages, a finalist for the National Book Award. She lives in Cambridge, Massachusetts.
Praise For…
---
Winner of the Ralph Waldo Emerson Award

"An evocative, powerful, and troubling book about a little-known war that speaks to all wars." —The New Republic

"Brilliant. . . . Lepore's grasp of the complexities and varieties of the human beings in her drama matches that of a fine novelist. . . . This is history as it should be written."  —The Boston Globe

"Fascinating . . . rich in imagination, in moral ruminations about the meaning and justice of war."  —The New York Review of Books

"Jill Lepore has written a brilliant study of the different ways Americans have understood and told stories about one of the great conflicts of their colonial past: King Philip's War. Writing with great grace and clarity, she offers fascinating new insights into the different ways that Indians and colonists made sense of their cultural differences." —William Cronon, author of Changes in the Land

"The Name of War adds wonderfully rich new dimensions to the history of white-Indian relations in the United States: sharp focus, a rich sense of context, anticipations of an comparisons with subsequent American wars. This is a profound and rewarding book that illuminates the social psychology of war in the American experience." —Michael Kammen, author of Mystic Chords of Memory

"Jill Lepore shows how language shaped as well as reflected the horror we know as 'King Philip's War.' Finding Algonquin voices within, behind, and beside the classic English narratives, she forces new engagement with the evasions, celebrations, and violence of New England history." —Laurel Thatcher Ulrich, author of A Midwife's Tale