Truly Like Lightning: A Novel (Hardcover)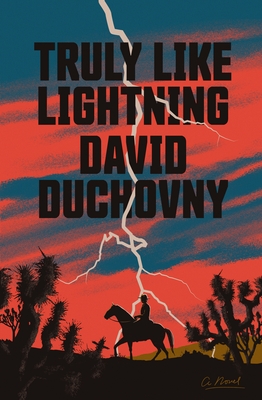 $28.00

Backordered at our distributor but we can check availability from the publisher.
Description
---
From the New York Times–bestselling author David Duchovny, an epic adventure that asks how we make sense of right and wrong in a world of extremes

For the past twenty years, Bronson Powers, former Hollywood stuntman and converted Mormon, has been homesteading deep in the uninhabited desert outside Joshua Tree with his three wives and ten children. Bronson and his wives, Yalulah, Mary, and Jackie, have been raising their family away from the corruption and evil of the modern world. Their insular existence—controversial, difficult, but Edenic—is upended when the ambitious young developer Maya Abbadessa stumbles upon their land. Hoping to make a profit, she crafts a wager with the family that sets in motion a deadly chain of events.

Maya, threatening to report the family to social services, convinces them to enter three of their children into a nearby public school. Bronson and his wives agree that if Maya can prove that the kids do better in town than in their desert oasis, they will sell her a chunk of their priceless plot of land. Suddenly confronted with all the complications of the twenty-first century that they tried to keep out of their lives, the Powerses must reckon with their lifestyle as they try to save it.

Truly Like Lightning, David Duchovny's fourth novel, is a heartbreaking meditation on family, religion, sex, greed, human nature, and the vanishing environment of an ancient desert.
About the Author
---
David Duchovny is a television, stage, and screen actor, as well as a singer-songwriter, screenwriter, and director. He lives in New York and Los Angeles.
Praise For…
---
"[David Duchovny's] most complex novel is also the best of the batch, and makes a solid case for him as a real-deal novelist. It's a provocative, entertaining book that, much like [Tom] Wolfe did, exposes our collective foibles and makes everybody look a little cartoonish. But it persuades you that we deserve the caricature he's made of us." —Mark Athitakis, The Washington Post

"This beguiling book crackles with energy and intelligence. It makes you laugh and then just when you think the ride is coming to an end . . . it delivers a right hook that leaves you aghast. It kind of broke my heart and I loved every minute of it." —Samantha Bee

"Truly Like Lightning is an emotionally captivating tour de force from start to finish. David Duchovny fires on all cylinders in penning a modern-day fish out of water tale . . . A true must-read for 2021." —Philip Zozzaro, San Francisco Book Review

"Duchovny is best known for his idiosyncratic roles in The X-Files and Californication, and he has a wildly unpredictable voice as a writer. Here he offers a dramatic parable involving trespasses against others and the dire consequences that follow . . .Duchovny's characteristically nimble prose not only connects the various narratives, but exposes the complicated humanity of his multifarious cast. An engrossing story about a clash of cultures and the extremities of faith." —Kirkus Reviews

"A bucking ride through the 21st-century American West . . . Duchovny's jam-packed page-turner is just waiting for someone to snap up the film rights." —Publishers Weekly

"Truly Like Lightning is a terrific novel—smart, moving, propulsive—at once a satire of Hollywood power brokers and a dead-serious contemplation of American values and ideals. David Duchovny writes with the heart of a great comic novelist and the soul of a philosopher." —Jess Walter, author of The Cold Millions

"In this broad social novel, David Duchovny makes a thrilling leap as a writer, with the skill to match his ambition. I love the high desert of Southern California and he claims it for his own mythology. Written before the social maladies of 2020, it reflects them in advance. He rides the zeitgeist." —Michael Tolkin
Thank you for shopping local!