The Last Last-Day-of-Summer (A Legendary Alston Boys Adventure) (Paperback)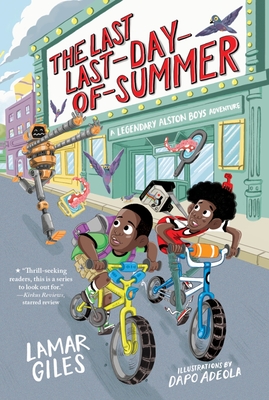 $7.99

Likely on our shelves now
Description
---
"The Last Last-Day-of-Summer reminds me that all children deserve to exist in magical spaces where their imaginations and familial bonds will them into heroism. Every single child should have the freedom to be one of The Legendary Alstons. And I, for one, am grateful to Giles, and this brilliant story, for that reminder." —Jason Reynolds, author of Newbery Honoree Long Way Down
"The legendary heroes of this legendary book are already legendary when the story begins! From there things can only get legendary-er!" —Tom Angleberger, author of the Origami Yoda series
"Lamar Giles has written an instant classic—readers won't want their time with the Legendary Alston Boys of Logan County to end." —Gwenda Bond, author of the Lois Lane series
The Hardy Boys meets The Phantom Tollbooth, in the new century! When two adventurous cousins accidentally extend the last day of summer by freezing time, they find the secrets hidden between the unmoving seconds, minutes, and hours are not the endless fun they expected.
Otto and Sheed are the local sleuths in their zany Virginia town, masters of unraveling mischief using their unmatched powers of deduction. And as the summer winds down and the first day of school looms, the boys are craving just a little bit more time for fun, even as they bicker over what kind of fun they want to have. That is, until a mysterious man appears with a camera that literally freezes time. Now, with the help of some very strange people and even stranger creatures, Otto and Sheed will have to put aside their differences to save their town—and each other—before time stops for good.
About the Author
---
Lamar Giles
is an Edgar Award-nominated author and has published three young adult novels. He is the co-founder of #WeNeedDiverse books and has edited two #WNDB anthologies, including 2018's
Fresh Ink
. He lives in Harrisonburg,VA. www.lrgiles.com, Twitter: @LRGiles, Instagram: @LamarGiles  
Dapo Adeola is an award-winning illustrator and designer who creates characters and images that challenge expectations around race and gender in a fun and upbeat way. He is the co-creator and illustrator of bestselling picture book Look Up! — winner of the Waterstones Children's Book Prize and the number 1 debut picture book of 2019. Dapo is also illustrator of the Versify fiction series The Last Last Day of Summer and other upcoming series with Macmillan and Bloomsbury.
London born and bred but of Nigerian heritage, when he's not busy cooking up new characters and adventures you can find Dapo running illustration and character design workshops with children or organising events to help highlight the possibilities of a career in illustration to underrepresented members of the Black diaspora. Find him on Instagram and Twitter @dapodraws. 
Praise For…
---
"[A] zany, clever adventure filled with surreal humor.... Anchored by its genuine characters and buoyed by its true fun, this is an adventure with staying power."  — Booklist (starred review)
 "Giles gives his middle school–aged African-American protagonists unique style and admirable substance....While the pair manages to fix time in this adventure, an underlying distress suggests readers may enjoy greater depth in upcoming visits to an already cleverly fantastical and fantastically clever universe."  — Bulletin of the Center for Children's Books
"The Last Last-Day-of-Summer reminds me that all children deserve to exist in magical spaces where their imaginations and familial bonds will them into heroism. Every single child should have the freedom to be one of The Legendary Alstons. And I, for one, am grateful to Giles, and this brilliant story, for that reminder. "
— Jason Reynolds, author of Newbery Honoree Long Way Down  
"The legendary heroes of this legendary book are already legendary when the story begins! From there things can only get legendary-er!"  — Tom Angleberger, author of the Origami Yoda series 
"Lamar Giles has written an instant classic--readers won't want their time with the Legendary Alston Boys of Logan County to end." — Gwenda Bond, author of the Lois Lane series
Thank you for shopping local!