In Praise of Blood: The Crimes of the Rwandan Patriotic Front (Hardcover)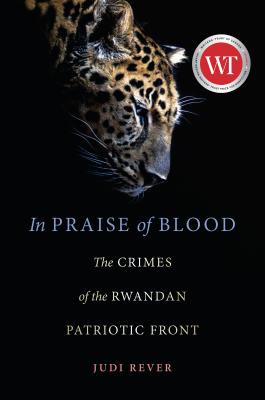 $24.50
Alas, not available through us.
Description
---
A FINALIST FOR THE HILARY WESTON WRITERS' TRUST PRIZE: A stunning work of investigative reporting by a Canadian journalist who has risked her own life to bring us a deeply disturbing history of the Rwandan genocide that takes the true measure of Rwandan head of state Paul Kagame.

Through unparalleled interviews with RPF defectors, former soldiers and atrocity survivors, supported by documents leaked from a UN court, Judi Rever brings us the complete history of the Rwandan genocide. Considered by the international community to be the saviours who ended the Hutu slaughter of innocent Tutsis, Kagame and his rebel forces were also killing, in quiet and in the dark, as ruthlessly as the Hutu genocidaire were killing in daylight. The reason why the larger world community hasn't recognized this truth? Kagame and his top commanders effectively covered their tracks and, post-genocide, rallied world guilt and played the heroes in order to attract funds to rebuild Rwanda and to maintain and extend the Tutsi sphere of influence in the region.
     Judi Rever, who has followed the story since 1997, has marshalled irrefutable evidence to show that Kagame's own troops shot down the presidential plane on April 6, 1994--the act that put the match to the genocidal flame. And she proves, without a shadow of doubt, that as Kagame and his forces slowly advanced on the capital of Kigali, they were ethnically cleansing the country of Hutu men, women and children in order that returning Tutsi settlers, displaced since the early '60s, would have homes and land. This book is heartbreaking, chilling and necessary.
About the Author
---
JUDI REVER is a freelance print and broadcast journalist who started her career with Radio France Internationale before working for the wire service Agence France-Presse, reporting from Africa and the Middle East. Her reporting on Rwanda has been featured in seven front-page stories in the Globe and Mail over the past three years, and she has been named a country of origin information expert on Rwanda by the Rights in Exile Programme, which promotes the legal protection of refugees. Her work has also appeared in Foreign Policy Journal, Le Monde Diplomatique, Humanosphere, Digital Journal and the Africa Report.
Praise For…
---
WINNER OF THE 2018 QUEBEC WRITERS' FEDERATION LITERARY AWARD: MAVIS GALLANT PRIZE FOR NON-FICTION

SHORTLISTED FOR THE 2018 HILARY WESTON WRITERS' TRUST PRIZE FOR NONFICTION

"Rever chronicles the largely unreported and cynically discounted view of the Rwandan genocide. A dogged reporter and skillful writer, Rever eschews what she calls the 'Hollywood version of good guys and bad guys' to meticulously document a chapter in recent history that is as complicated as it is dismaying. In making her case, she risks everything—her life included—to expose the crimes of Rwanda's current brutal government. Rever's harrowing narrative isn't just a portrait of a tragic time; it also stands as an uncompromising prosecution of that period and its ongoing consequences. In Praise of Blood is an undeniably important story told by a remarkably brave writer." —2018 Hilary Weston Writers' Trust Prize for Nonfiction Jury

"Groundbreaking work that significantly changes what we know about the Rwandan genocide." —The Globe and Mail

"In Praise of Blood explores how Washington helped obscure the full story of the genocide that devastated Rwanda during the 1990s and cover up the crimes of the Rwandan Patriotic Front (RPF), which has ruled the country ever since. Over the years, less valiant portraits of Kagame and the RPF have appeared . . . In Praise of Blood is the most accessible and up-to-date of these studies. . . . Kagame's regime and its defenders have dismissed them all as propaganda . . . Rever's account will prove difficult to challenge. She has been writing about Central Africa for more than twenty years, and her book draws on the reports of UN experts and human rights investigators, leaked documents from the International Criminal Tribunal for Rwanda, and hundreds of interviews with eyewitnesses, including victims, RPF defectors, priests, aid workers, and officials from the UN and Western governments. Her sources are too numerous and their observations too consistent for her findings to be a fabrication." —Helen Epstein, The New York Review of Books

"If [this book] doesn't provoke indignation at Western support for such a despicable, criminal regime, nothing will. Indeed, apart from the outstanding documentation the book provides, its other great value is to provide insight into the process of researching it. Rever writes about the regime's threats against her and the toll her investigations over many years took on her family and personal life. Reading it, I was reminded . . . truth-telling come with risks to physical and mental health." —Hong Kong Free Press

"In Praise of Blood is compulsory reading for a world that has acknowledged only half the story of the Rwandan genocide. We owe a debt of gratitude to Judi Rever for risking her life to bring us the whole truth of that genocide in this great work of investigative journalism." —Terry Gould, winner of the CJFE Tara Singh Hayer Press Freedom Award and author of Worth Dying For and Murder Without Borders
 
"This is an unflinching account of one of the most ruthlessly executed and cynically exploited human catastrophes of the twentieth century. If you thought you understood the genesis of the Rwandan genocide, think again. If you are confused by the origins of the ongoing carnage in the Congo and Zaire, mysterious murders in Uganda and South Africa, start reading now." —Linden MacIntyre, award-winning broadcast journalist and Scotiabank Giller award-winning author of The Bishop's Man
 
"In Praise of Blood will remain a work of reference on Rwanda for decades to come. Judi Rever exposes and meticulously documents a litany of crimes against Rwandans that forces loyal to the Rwandan President, Paul Kagame, have killed many people to conceal. We are indebted to Rever's courageous reporting in the face of great personal risk." —Anjan Sundaram, journalist and author of Bad News and Stringer
Thank you for shopping local!