Purification of Laboratory Chemicals: Part 2 Inorganic Chemicals, Catalysts, Biochemicals, Physiologically Active Chemicals, Nanomaterials (Paperback)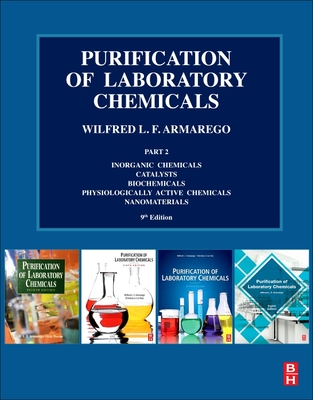 $198.60

Backordered at our distributor but we can check availability from the publisher.
Description
---
Purification of Laboratory Chemicals: Part Two, Inorganic Chemicals, Catalysts, Biochemicals, Physiologically Active Chemicals, Nanomaterials, Ninth Edition describes contemporary methods for the purification of chemical compounds. The work includes tabulated methods taken from literature for purifying thousands of individual commercially available chemical substances. To help in applying this information, the more common processes currently used for purification in chemical laboratories and new methods are discussed. For dealing with substances not separately listed, another chapter is included, setting out the usual methods for purifying specific classes of compounds.
Laboratory workers, whether carrying out research or routine work, will invariably need to consult this book. Apart from the procedures described, the large amount of physical data about listed chemicals is essential. This fully updated, revised and expanded new edition includes the purification of many new substances that have been available commercially since 2017, along with previously available substances which have found new applications.