Jeeves and the King of Clubs: A Novel in Homage to P.G. Wodehouse (Paperback)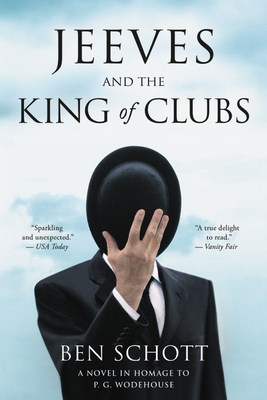 $16.99

Should be on our shelves now -- but wait for confirmation from us before coming to pick up. We'll respond to your order shortly.
Description
---
What ho! A new Jeeves and Wooster novel that is "impossible to read without grinning idiotically" (Evening Standard), penned in homage to P.G. Wodehouse by bestselling author Ben Schott -- in which literature's favorite master and servant become spies for the English Crown.

The misadventures of Bertie Wooster and his incomparable personal gentleman, Jeeves, have delighted audiences for nearly a century. Now bestselling author Ben Schott brings this odd couple back to life in a madcap new adventure full of the hijinks, entanglements, imbroglios, and Wodehousian wordplay that readers love.

In this latest uproarious adventure, the Junior Ganymede Club (an association of England's finest butlers and valets) is revealed to be an elite arm of the British secret service. Jeeves must ferret out a Fascist spy embedded in the highest social circles, and only his hapless employer, Bertie, can help. Unfolding in the background are school-chum capers, affairs of the heart, antics with aunts, and sartorial set-tos.

Energized by Schott's effervescent prose, and fully authorized by the Wodehouse Estate, Jeeves and the King of Clubs is a delight for lifelong fans and the perfect introduction to two of fiction's most beloved comic characters.
About the Author
---
Ben Schott is the New York Times and internationally bestselling author of Schott's Miscellany and the Schott's Almanac series. A graduate of Cambridge University, he enjoyed a career as a photographer before becoming a writer. He is a regular columnist for Bon Appetit, Inc., Playboy, and the New York Times, and a frequent contributor to many other outlets, including The Guardian, Vanity Fair, the Paris Review, and more. He lives in New York City.
Praise For…
---
One of the Best Books of the Year (Town and Country)

"Schott is a wonderful, exacting mimic: Bertie Wooster and his valet, Jeeves, could almost be mistaken for themselves, their exchanges sparkling and unexpected, giving real verve to this joyful, loving, humble, and worthwhile homage."—USA Today

"P.G. Wodehouse wrote almost 100 novels in his lifetime, but his most indelible contributions to the literary canon are, inarguably, the characters of Bertie Wooster and Jeeves... They are resurrected by British writer Ben Schott... it would be impossible to perfectly capture Wodehouse's particular madhouse charm but Schott comes pretty darn close... a true delight to read"—Vanity Fair

"In Jeeves and the King of Clubs, a fizzy new homage to Wodehouse, Schott infuses Bertie with extra bounce, transforming him from sheer pleasure seeker to shrewd (sort of) secret agent--no wardrobe change necessary... What can explain this contemporary renaissance of the butler and the bachelor? ... It might signal a newfound appreciation of the power of Wodehouse's levity to combat--and outlast--moments in history when affairs have taken on 'a certain menacing trend,' as Jeeves once put it... The pages of Wodehouse contain an 'empire of comic writing on which the sun has never set'... in elevating Bertie Wooster as its staunchest defender, he burnishes the gleam."—New York Times Book Review

"Schott brings it all off in high and hilarious style. Best of all, his wordplay can hold its own with the Master's."—Booklist (starred review)

"Impressive... Schott comes up with Wodehouse caliber metaphors and otherwise expertly channels the master's voice... an essential volume for Wodehouse fans, rounded out with endnotes full of fun historical and literary facts."—Publishers Weekly

"A painstaking facsimile rendered in spun sugar... capable of true Wodehousian flights ... fans longing for more will welcome Schott's homage."—Kirkus

"Impossible to read without grinning idiotically."—Evening Standard (UK)

"[Schott's] sensitivity to the tics and cadences of his characters' speech and ways of being is uncannily acute, and full of the same freshness and resonance of perception as Wodehouse's own style... It vibrates with the spirit and rhythms of [Wodehouse's] heart."—Sunday Times (UK)

"A glorious procession of high jinks."—Sunday Times (UK)

"A smart, often hilarious caper that turns the duo into international spies and reminds us why Wodehouse's characters became beloved in the first place."—Town and Country
Thank you for shopping local!