Blue Dreams: The Science and the Story of the Drugs that Changed Our Minds (Hardcover)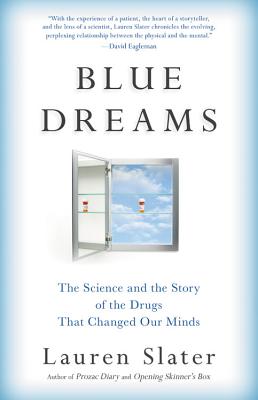 $28.00
Alas, not available through us.
Description
---
The explosive story of the discovery and development of psychiatric medications, as well as the science and the people behind their invention, told by a riveting writer and psychologist who shares her own experience with the highs and lows of psychiatric drugs.

Although one in five Americans now takes at least one psychotropic drug, the fact remains that nearly seventy years after doctors first began prescribing them, not even their creators understand exactly how or why these drugs work -- or don't work -- on what ails our brains.

Lauren Slater's revelatory account charts psychiatry's journey from its earliest drugs, Thorazine and lithium, up through Prozac and other major antidepressants of the present. Blue Dreams also chronicles experimental treatments involving Ecstasy, magic mushrooms, the most cutting-edge memory drugs, placebos, and even neural implants. In her thorough analysis of each treatment, Slater asks three fundamental questions: how was the drug born, how does it work (or fail to work), and what does it reveal about the ailments it is meant to treat?

Fearlessly weaving her own intimate experiences into comprehensive and wide-ranging research, Slater narrates a personal history of psychiatry itself. In the process, her powerful and groundbreaking exploration casts modern psychiatry's ubiquitous wonder drugs in a new light, revealing their ability to heal us or hurt us, and proving an indispensable resource not only for those with a psychotropic prescription but for anyone who hopes to understand the limits of what we know about the human brain and the possibilities for future treatments.
About the Author
---
Lauren Slater is the author of Welcome to My Country, Prozac Diary, Lying: A Metaphorical Memoir, and Opening Skinner's Box, among other books. She has received numerous awards, including a National Endowment for the Arts fellowship, and a Knight Science Journalism Fellowship at MIT.

Opening Skinner's Box was nominated for best science writing by the Los Angeles Times, and her work has been reprinted numerous times in The Best American Essays. She lives on a farm in Fitchburg, Massachusetts.
Praise For…
---
"In her informative and detailed new book, Blue Dreams, Lauren Slater traces the meandering, mercurial history of psychiatric drug discovery...She is at her most prescient when discussing Prozac, from its initial promise to its saturation of American culture...Slater also helps to further debunk the 'chemical imbalance' myth of mental illness, citing 'the paucity of evidence' supporting the role of neurotransmitters in depression...The most moving and ultimately most compelling parts of Blue Dreams are those where Slater recounts her harrowing history of drug treatment for bipolar illness. Here she illuminates the long-term physical effects of these medications, a subject rarely addressed in the psychiatrist's office...Slater wisely points out that anyone who ingests a pill for the treatment of, say, depression or anxiety or psychosis is essentially introducing a foreign substance into the brain. And yet, she goes on to say, what would you have people with a serious mental illness do? There are surely untold numbers of those who, without the benefit of a drug for their mental illness, would be dead. Slater considers herself one of them. In details both lyrical and crushingly painful, Slater describes her lifelong struggle with what Winston Churchill called the 'black dog' of depression. There is the nightmarish daydream of a sun that burns day and night, that never sets, leaving her 'trapped in a white hysterical light.'...Blue Dreams is a raw and honest memoir, and frankly one of the few that show the truly dark side of medication--even as that medication saves lives."—Amy Ellis Nutt, Washington Post

"Striking . . . Slater, a writer and psychologist, takes a skeptical yet compassionate approach to the history of psychopharmacology, one shaped by her own experience as a patient . . . Blue Dreams is a vivid and thought-provoking synthesis."—Lidija Haas, Harper's

"Poignant and lyrical...Slater's experience makes her a convincing travel guide into the history, creation and future of psychotropics."—Maggie Jones, New York Times Book Review

"In this gonzo examination of the messy history and brave future of psychotropic drugs, writer and psychologist Slater sifts through the remedies one in five Americans relies on but knows little about--even breaking into an abandoned asylum in her quest."—Natalie Beach, O Magazine

"Ambitious...Slater understands neuroscience in far greater detail than the average patient. This allows her to bounce between first-person narrative and historical survey... Her depictions of madness are terrifying and fascinating--she vividly details her own mental breakdown with bracing candor--and she brings something new to a well-worn genre...Blue Dreams provides a useful entry point for patients with mental illness and their families, and fills in many of the gaps that doctors fail to address in the course of a routine consultation--and does so with uncommon honesty."—Matt McCarthy, USA Today

"Slater has taken many psychiatric drugs over
thirty-five years, and in this engagingly personal book, she explores the
success and the side effects they engender."—Tom Beer, Newsday

"Slater suggests that it's tempting--but wrong--to think of modern medicine as a system of elegant cures that have replaced the crude treatments of the past. In psychiatry, she says, the latest techniques aren't necessarily better than the older ones."—JM Olejarz, Harvard Business Review

"With the experience of a patient, the heart of a
storyteller, and the lens of a scientist, Lauren Slater chronicles the
evolving, perplexing relationship between the physical and the mental."—David Eagleman , New York Times bestselling author of Incognito: The Secret Lives of theBrain and host of PBS's The Brain

"A profound and essential look at a phenomenon of our times. Meticulously researched, Blue Dreams is also a deeply moving personal investigation into the drugs so many of us rely upon for our survival. Lauren Slater is much more than a trusted guide: she's a brave and eloquent companion who doesn't shy away from controversy. You'll be talking and thinking about Blue Dreams long after you've read it."—Terri Cheney, New York Times bestselling author of Manic

"Thought-provoking...Enlightening...In this ambitious undertaking, Slater applies vigorous research and intimate reflection to the issues involved with treating mental suffering...Ultimately, the author finds great hope...A highly compelling assessment of the role of psychotropic drugs in the treatment of mental-health issues."—Kirkus Reviews

"Weaving together the
history of psychopharmacology and her personal experience as a patient, Slater
offers readers a candid and compelling glimpse at life on psychiatric drugs and
the science behind them . . . Intriguing and instructive."—Tony Miksanek, Booklist

"Slater offers many insights here, and her moving personal story truly illuminates the triumphs and shortcomings of psychotropic drugs."—Publishers Weekly

"Mixing memoir, history, and medical reporting, she brings a deep appreciation of all the hope that has gone into these drugs, both among those who make them and those who take them."—Ben Kafka, Bookforum

Praise for Lauren Slater
"An enormously poetic and ebullient writer." —Elle

"Slater is more poet than narrator, more philosopher than psychologist, more artist than doctor . . . Every page brims with beautifully rendered images of thoughts, feelings, emotional states."—SanFrancisco Chronicle

"Brutally
honest and brave . . . Slater reminds us that a writer's true gift--and
power--lies in the ability to generously turn what seems like a specific
experience into a universal one."—EntertainmentWeekly

"The closest thing we have to a doyenne of psychiatric disorder."—Village Voice



"The beauty of Lauren Slater's prose is shocking . . . Slater's vision is, ultimately, one of unity and possibility."—ClaireMessud, Newsday

"Smart, charming, iconoclastic, and inquisitive."—Peter Kramer, author of Listening to Prozac

"Engaging,
provocative, and even fun."—NewEngland Journal of Medicine
Coverage from NPR
Thank you for shopping local!