Queen of America: A Novel (Paperback)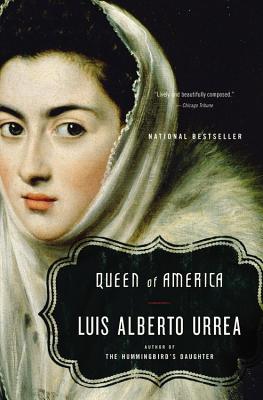 $17.99

Should be on our shelves now -- but wait for confirmation from us before coming to pick up. We'll respond to your order shortly.
Description
---
At turns heartbreaking, uplifting, fiercely romantic, and riotously funny,this novel from a Pulitzer Prize finalist tells the unforgettable story of a young woman coming of age and finding her place in a new world.

Beginning where Luis Alberto Urrea's bestselling The Hummingbird's Daughter left off, Queen of America finds young Teresita Urrea, beloved healer and "Saint of Cabora," with her father in 1892 Arizona. But, besieged by pilgrims in desperate need of her healing powers, and pursued by assassins, she has no choice but to flee the borderlands and embark on an extraordinary journey into the heart of turn-of-the-century America.

Teresita's passage will take her to New York, San Francisco, and St. Louis, where she will encounter European royalty, Cuban poets, beauty queens, anxious immigrants and grand tycoons -- and, among them, a man who will force Teresita to finally ask herself the ultimate question: is a saint allowed to fall in love?
About the Author
---
A finalist for the Pulitzer Prize for his landmark work of nonficiton The Devil's Highway, Luis Alberto Urrea is also the bestselling author of the novels The Hummingbird's Daughter, Into the Beautiful North, Queen of America, The House of Broken Angels, and Good Night, Irene, as well as the story collection The Water Museum, a PEN/Faulkner Award finalist.

He has won the Lannan Literary Award, an Edgar Award, and a 2017 American Academy of Arts and Letters Award in Literature, among many other honors. Born in Tijuana to a Mexican father and American mother, he lives outside of Chicago and teaches at the University of Illinois-Chicago.
Praise For…
---
Praise for QUEEN OF AMERICA:

"'Who is more of an outlaw than a saint?'" one of Luis Urrea's characters poses. The answer is this ferocious, ribald romance of the border. Jaunty, bawdy, gritty, sweet, Queen of America has a bottomless comic energy and a heart large enough to accept-even revel in-all of human folly."—Stewart O'Nan, author of Emily Alone and Songs for the Missing

"Captivating...With deft humor and a poetic lyricism that seamlessly folds one scene into another, Urrea unfolds the story of his real-life great-aunt Teresita, a teenage saint who was known for healing miracles... Each scene in Queen of America unfurls gracefully like delicate wisps of smoke. Whether Teresita is being held captive in Northern California by a band of profiteering medical professionals, or being feted like a queen in New York's social circles, this epic novel paints a portrait of America-and its inhabitants-with grace and style. It will spark fire in readers' hearts."—Megan Fishmann, Bookpage

"Urrea delights in the texture of things. Turn-of-the-century America, particularly New York, comes alive at his fingertips: He sees both the silk and the mud... In imagining the story of his great-aunt Teresita, Urrea might have chosen to make her a hero; that would have been easier. What we get is more complicated, more modern... Hers is the story of what it means to have a gift, and how a talent can also be a burden."—Carolyn Kellogg, Los Angeles Times

"Colorful [and] exuberant."—Sam Sacks, Wall Street Journal

"A magnificent work of literary alchemy, so masterfully infused with myth and history, you will feel these characters in your heart, your gut. You will grieve for their immortal souls."—Jamie Ford, author of Hotel on the Corner of Bitter and Sweet

"A gritty, bold, and much-anticipated sequel to The Hummingbird's Daughter... Fiercely romantic and at times heart­breaking but also full of humor, Urrea's latest novel blends fairy tale, Western adventure, folk tale, and historical drama. Fans of Hummingbird and readers new to Urrea's work will surely enjoy this magnificent, epic novel."—Library Journal