Germania: In Wayward Pursuit of the Germans and Their History (Paperback)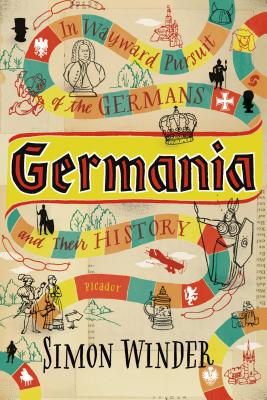 $24.00

Not in store, not in stock at our distributor. Once you place the order, we can give you a better time frame.
Description
---
Germania is propelled by a wish to reclaim the brilliant, chaotic, endlessly varied German civilization that the Nazis buried and ruined, and that, since 1945, so many Germans have worked to rebuild. A very funny book on serious topics---how we are misled by history, how we twist history, and how sometimes it is best to know no history at all. It is a book full of curiosities: odd food, castles, mad princes, fairy tales, and horse-mating videos. It is about the limits of language, the meaning of culture, and the pleasure of townscape, and "a book you will return to time and again" (The Florida Times-Union).
About the Author
---
Simon Winder is the author of the highly praised The Man Who Saved Britain and a trilogy of books about the history of Central Europe--the Sunday Times (London) Top Ten Bestseller Germania, Danubia, and Lotharingia. He works in publishing and lives in Wandsworth Town, London.
Praise For…
---
"An engaging, often funny catalog of one man's eccentric enthusiasm for a country that he has come to love--somewhat to his own surprise…Winder is an entertaining writer, and an erudite one." —Ian Brunskill, The Wall Street Journal

"A delightfully personal and engaging book…Winder's knowledge is as encyclopedic as his enthusiasm is childlike." —Roger K. Miller, The Denver Post

"Winder digresses into wine, marzipan, wonder cabinets, American films, and his own inability to learn German or understand philosophy.…A weirdly witty chronicle." —Barbara Fisher, The Boston Globe

"His rich and broadly chronological history of Germany and its peoples is minutely researched. Interspersed in the narrative, however, are the deliciously opinionated, often hilarious and occasionally vituperative reminiscences of the author's many excursions to Germany and Austria. They make the book. The love-hate nature of his relationship with his subject brings out the best in his writing . . . It is the kind of knockabout humour that has British readers rolling while Germans smile politely but a little uncomprehendingly . . . A splendid offering." —Hugh Mortimer, Financial Times

"Wonderful--very witty and highly entertaining, splendidly and amusingly opinionated, marvellously colourful in its descriptions of unusual places and little known people, and full of enjoyable insights into German history and culture." —Ian Kershaw, author of Hitler: A Biography

"Winder is perhaps the first to have succeeded in presenting Germany as no less fun that France or Italy and the Germans as a nation of eccentrics very like our own . . . He excels in a style that he self-deprecatingly calls 'anecdotal facetiousness' but which manages to convey copious quantities of facts in the most enjoyable way possible." —Evening Standard

"It's plain that Winder's mind is fizzing with interesting ideas. He can write beautifully, embodying a whole world in a phrase . . . He finds new angles on familiar subjects . . . His excitement is beguiling and infectious; he's widely read, good-humoured and--a wonderful asset in writing this book--utterly lacking an axe to sharpen on the subject of the Second World War . . . There are many pleasures to be savoured in Germania . . . gems that make Winder's clever, rambunctious work a book to treasure." —Miranda Seymour, Literary Review

"This book is the chronicle of a passion. It is also an engrossing, informative and hilarious read. He has spun an enthralling weave of travelogue, anecdote and historical mock-epic. What is often most engaging about these encounters is the spectacle of Winder himself. It made me laugh so hard that I woke up my wife and had to give up reading the book in bed. If Bill Bryson had collaborated with W. G. Sebald to write a book about Germany, they might have wound up with something like this. Winder's extravagant mixing of genres allows him to seek historical depth without sacrificing the pleasures of anecdote. There is a serious purpose behind all the playfulness." —Christopher Clark, The Sunday Times (London)

"Simon Winder peppers his meaty tome with quirky digressions, anecdotes and memories, revealing intriguing insights about Germany, from its cuisine to its architecture, people and history." —ABTA Magazine

"Travelogue and historical narrative are merged in a gloriously free-wheeling narrative of the entire sweep of German history . . . This book is clearly not intended to be the last word on German history. But for any readers wanting a learned, entertaining and lucid introduction to a notoriously complex subject, it should certainly be their first." —Seven Magazine, The Sunday Telegraph

"This candid, cheerful and idiosyncratic approach to travelogue makes a refreshing change. Whether being stridently critical or puppyishly enthusiastic, Winder is a master of the well-turned phrase or the unexpected insight." —The Times (London)

"Best to follow Winder on his rambles as you'd follow a favourite uncle who knows lots about lots of apparently random things . . . He is most engaging and sporadically wise . . . Winder's mind is a very agreeable place to go rambling." —The Scotsman

"Entertaining and informative... Delightful" —Philip Hensher, The Independent

"A beautifully written and insightful book . . . It can only be hoped that it will be read by many and that it will be recognised for what it is: a witty, thought-provoking account of Germany's various histories, cultures and oddities." —The Irish Times
Thank you for shopping local!