The Collected Stories of Lydia Davis (Paperback)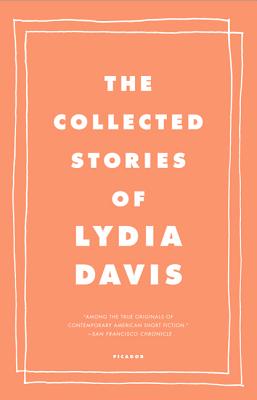 $28.00

Not in the store. We can order it and should have it in store in 3-5 business days.
Description
---
The Collected Stories of Lydia Davis is an event in American letters.

Lydia Davis is one of our most original and influential writers. She has been called "an American virtuoso of the short story form" (Salon) and "one of the quiet giants . . . of American fiction" (Los Angeles Times Book Review). Now, for the first time, Davis's short stories are collected in one volume, from the groundbreaking Break It Down (1986) to the 2007 National Book Award nominee Varieties of Disturbance.

"Among the true originals of contemporary American short fiction." —San Francisco Chronicle
About the Author
---
Lydia Davis is the author of Essays One, a collection of essays on writing, reading, art, memory, and the Bible. She is also the author of The End of the Story: A Novel and many story collections, including Varieties of Disturbance, a finalist for the 2007 National Book Award for Fiction; Can't and Won't (2014); and The Collected Stories of Lydia Davis, described by James Wood in The New Yorker as "a grand cumulative achievement." Davis is also the acclaimed translator of Swann's Way and Madame Bovary, both awarded the French-American Foundation Translation Prize, and of many other works of literature. She has been named both a Chevalier and an Officier of the Order of Arts and Letters by the French government, and in 2020 she received the PEN/Malamud Award for Excellence in the Short Story.
Praise For…
---
"Among the true originals of contemporary American short fiction." —San Francisco Chronicle

"Davis is a magician of self-consciousness. Few writers now working make the words on the page matter more." —JONATHAN FRANZEN

"All who know [Davis's] work probably remember their first time reading it . . . Blows the roof off of so many of our assumptions about what constitutes short fiction." —DAVE EGGERS, McSweeney's

"Sharp, deft, ironic, understated, and consistently surprising." —Joyce Carol Oates

"The best prose stylist in America." —RICK MOODY

"A body of work probably unique in American writing, in its combination of lucidity, aphoristic brevity, formal originality, sly comedy, metaphysical bleakness, philosophical pressure, and human wisdom. I suspect that 'The Collected Stories of Lydia Davis' will in time be seen as one of the great, strange American literary contributions." —James Wood, The New Yorker

"This welcome collection of Lydia Davis's short fiction, which gathers stories from four previously published volumes, reveals that her obsessions have remained fairly consistent over the past 30 years: frustrated love, the entanglements of language, the writer engaged in the act of writing. But even when Davis traverses familiar territory, her masterful sentence style and peculiar perceptiveness make each work unmistakably distinct." —Kimberly King Parsons, Time Out New York

"Lydia Davis is one of the best writers in America, a fact that has been kept under wraps by her specialization in short fiction rather than the novel and her discomfort with the idea of one event following another in some sensible pattern, an expectation she frequently plays with, as a kitten will with your fingers. Watch out for those teeth and claws. With the publication of this big book, The Collected Stories of Lydia Davis, Davis might well receive the kind of notice she's long been due." —Vince Passaro, O, The Oprah Magazine

"What to do with all the empty white space that drifts over the 733 pages and nearly 200 fictions of The Collected Stories of Lydia Davis? Make origami, maybe. Like Don DeLillo, who drafted Underworld at the pace of one paragraph per sheet of paper--the technique, he once explained, evolved out of "a sensitivity to the actual appearance of words on a page, to letter-shapes and letter-combinations"--Lydia Davis is as much sculptor as writer." —Zach Baron, Village Voice

"No one writes a story like Lydia Davis. In the years since she began publishing her lyrical, extremely short fiction, she has quietly become one of the most impactful influences on American writers, even if they don't know it. That's largely because she makes economy seem so easy. You could read several of her stories into a friend's voicemail box before you were cut off (and you should). You could fit one of her stories in this column. Some you could write on your palm." —Jonathan Messinger, Time Out Chicago

"Lydia Davis is the master of a literary form largely of her own invention. Her publisher calls what she writes fiction - and her short prose pieces do have characters, settings and sometimes a plot, however minuscule - while haughtier literary types might think of it as a kind of fleshy prose poetry or designate it "flash fiction." The classically minded and fantasy fans might characterize it as updated fable." —Craig Morgan Teicher, The Cleveland Plain Dealer

"This volume contains the stories from four collections: "Break It Down" (1986), "Almost No Memory" (1997), "Samuel Johnson Is Indignant" (2001) and "Varieties of Disturbance" (2007). They are shocking. Be prepared for a level of self-consciousness (remember, Beckett). Be prepared for narrators with disorienting levels of discomfort (remember, Kafka). Be prepared for moments of beauty that are sharp and merciless (remember, Proust)." —Susan Salter Reynolds, The Los Angeles Times