Spellbound (Paperback)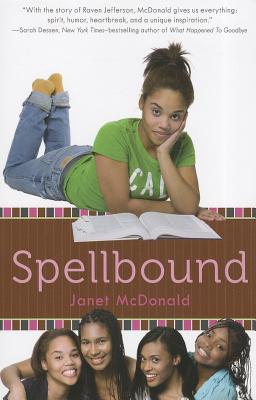 $7.99
Alas, not available through us.
Description
---
Raven Jefferson never expected she'd be a mother at sixteen like her best friend, Aisha. Now she's stuck being just another high school dropout, a project girl with few prospects. Or maybe not; Raven does have ambition. Still, when is she going to find the time to finish school? All her time is spent looking for a job or taking care of her son, Smokey. Then her older sister, Dell, tells her about a spelling bee that promises the winner a full college scholarship. But spelling? There isn't a subject she's worse at Yet Raven is fiercely determined to find a way to get her life back on track. So she starts memorizing words. There's no reason not to try. . . .
About the Author
---
Janet McDonald (1953-2007) is the author of the adult memoir "Project Girl." She is the author of three books set in the Brooklyn projects: "Chill Wind," for which she received the Coretta Scott King/John Steptoe Award for New Talent; "Spellbound," an ALA Best Book for Young Adults; and "Twists and Turns," an ALA Quick Pick for Young Adults. She was born and raised in Brooklyn, New York, and lived in Paris, France.
Praise For…
---
"Spellbound is the rarest of books, funny and moving at the same time. . . . Thank you, Ms. McDonald, for writing this wonderful, fun, and touching book."—Christopher Paul Curtis, winner of the Newbery Medal for Bud, Not Buddy "This first novel is read-aloud funny, even as it tells the harsh truth about how hard it is to break free. . . . What's great in this novel is the depiction of the grim reality of the neighborhood and the slick clichés of success. Best of all, [McDonald] humanizes the individual people behind the stereotype."—Booklist, Starred Review
Thank you for shopping local!