The Corrections: A Novel (Paperback)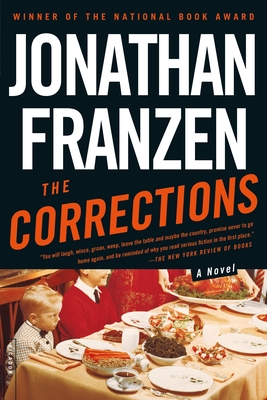 $20.00
Alas, not available through us.
Description
---
#1 NEW YORK TIMES Bestseller
NATIONAL BOOK AWARD WINNER

"A spellbinding novel" (People) from the New York Times bestselling author Jonathan Franzen, The Corrections is a comic, tragic epic of worlds colliding: an old-fashioned world of civic virtue and sexual inhibitions, a new world of home surveillance, hands-off parenting, do-it-yourself mental health care, and globalized greed.

After almost fifty years as a wife and mother, Enid Lambert is ready to have some fun. Unfortunately, her husband, Alfred, is losing his sanity to Parkinson's disease, and their children have long since flown the family nest to the catastrophes of their own lives.

The oldest, Gary, a once-stable portfolio manager and family man, is trying to convince his wife and himself that, despite certain alarming indicators, he is not clinically depressed. The middle child, Chip, has lost his seemingly secure academic job and is failing spectacularly at his new line of work. And Denise, the youngest, has escaped a disastrous marriage only to pour her youth and beauty down the drain of an affair with a married man—or so her mother fears.

Desperate for some pleasure to look forward to, Enid has set her heart on an elusive goal: bringing her family together for one last Christmas at home.
About the Author
---
Jonathan Franzen is the author of five novels, including The Corrections, Freedom, and Purity, and five works of nonfiction, most recently Farther Away and The End of the End of the Earth, all published by Farrar, Straus and Giroux. He lives in Santa Cruz, California.
Praise For…
---
"You will laugh, wince, groan, weep, leave the table and maybe the country, promise never to go home again, and be reminded of why you read serious fiction in the first place." —The New York Review of Books

"Marvelous . . . Everything we want in a novel--except, when it's rocking along, for it never to be over." —The New York Times Book Review

"Jonathan Franzen has built a powerful novel out of the swarming consciousness of a marriage, a family, a whole culture--our culture." —Don DeLillo

"Looms as a model for what ambitious storytelling can still say about modern life . . . Franzen swings for the fences and clears them with yards to spare." —San Francisco Chronicle

"The novel we've been waiting for...a stunning anatomy of family dysfunction...a contemporary novel that will endure." —Esquire

"In its complexity, its scrutinizing and utterly unsentimental humanity, and its grasp of the subtle relationships between domestic drama and global events....It is a major accomplishment." —Michael Cunningham

"Frighteningly, luminously authentic." —The Boston Globe

"A genuine masterpiece . . . This novel is a wisecracking, eloquent, heartbreaking beauty." —Elle

"The brightest, boldest, and most ambitious novel I've read in many years." —Pat Conroy

"Brilliant . . . Almost unbearably lifelike." —The New York Observer

"Funny and deeply sad, large-hearted and merciless, The Corrections is a testament to the range and depth of pleasures great fiction affords." —David Foster Wallace

"This is a spellbinding novel . . . that is both funny and piercing." —People
Thank you for shopping local!