The Tools of Screenwriting: A Writer's Guide to the Craft and Elements of a Screenplay (Paperback)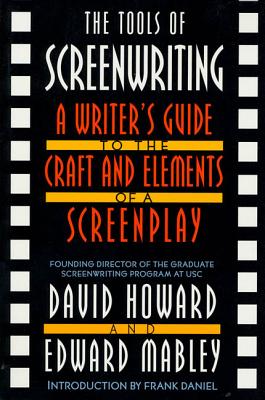 $19.99

Not in store, not in stock at our distributor. Once you place the order, we can give you a better time frame.
Description
---
In The Tools of Screenwriting, David Howard and Edward Mabley illuminate the essential elements of cinematic storytelling, and reveal the central principles that all good screenplays share. The authors address questions of dramatic structure, plot, dialogue, character development, setting, imagery, and other crucial topics as they apply to the special art of filmmaking.

Howard and Mabley also demonstrate how, on a practical level, the tools of screenwriting work in sixteen notable films, including Citizen Cane, E.T., One Flew Over the Cuckoo's Nest, Rashomon, The Godfather, North by Northwest, Chinatown, and sex, lies, and videotape.
About the Author
---
David Howard is the founding director of the graduate screenwriting program at USC, where he teaches various courses in screenwriting. His students have scripted such successful films as The Hand That Rocks the Cradle, Air Force One, Permanent Midnight, and Natural Born Killers. The coauthor (with Edward Mabley) of The Tools of Screenwriting, he lives in Los Angeles, California.

Edward Mabley, besides being the author of Dramatic Construction, wrote, among other works, the play Glad Tidings and the text of the grand opera The Plough and the Stars (after the play by Sean O'Casey). He wrote radio and television plays, directed in television, and taught at the New School for Social Research in New York. He died in 1984.
Praise For…
---
"David Howard calls this book 'a writer's guide.' I think it's a wonderful and indispensable producer's guide to story, storytelling, and screenwriting." —Lawrence Turman, producer of The Graduate, Running Scared, The Flim-Flam Man, and other films

"What David Howard has done with The Tools of Screenwriting is to reveal for me and for all readers just how stories work; he shows that there are no absolute rules, but there are principles that can help a beginning writer gain understanding of all the elements that go into the creation of a 'good story well told.'" —Diane Keaton

"The Tools of Screenwriting is the best primer on the craft, far better than the usual paint-by-the-numbers sort of books that abound." —Frank Pierson, Academy Award-winning screenwriter of Cool Hand Luke, Dog Day Afternoon, Presumed Innocent, and A Star is Born