I See You, Survivor: Life Inside (and Outside) the Totally F*cked-Up Troubled Teen Industry (Hardcover)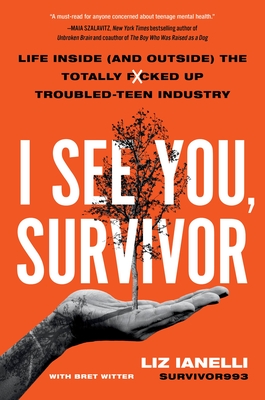 $29.00

Not in the store. We can order it and should have it in store in 3-5 business days.
Description
---
"A must read for anyone concerned about teenage mental health." -- Maia Szalavitz, NYT bestselilng author of Unbroken Brain co-author of The Boy Who Was Raised as a Dog

A survivor of the Troubled Teen Industry exposes the truth about the dark side of a billion-dollar industry's institutionalized abuse—and shares the story of her own fight for justice.
Liz Ianelli, known around the world as Survivor993, spent years at the Family Foundation—labeled an "institution for troubled teens." The children who went through The Family School like her were good people. They had potential and dreams, but they came out with lifelong trauma: anxious, angry, paranoid, self-hating and in pain. Most of them have suffered lives of hardship, unable to integrate back into society. Hundreds have died, mostly by overdose and suicide.
I See You, Survivor
is about what really happened at The Family and what continues to happen at thousands of facilities like it. Beyond the trauma, this book is about triumph, resilience, and an effort to help others, and it conveys Liz's critical message for every survivor she sees:
"You are not broken. You are not unlovable. And you are not alone. There are millions of us. And I come with a message, for you, for them, for everyone: They act strong, but we are stronger. We are worthy. We are not alone. Speak, and we will be there for you. Speak, because there is power in your testimony. Speak, and we will win."
This is a book first and foremost for survivors who can find support and community in these stories. It is also for parents, counselors, law makers and others to expose this industry for what it is: child abuse. And how that abuse has consequences for all of us.
About the Author
---
Liz Ianelli is known online as Survivor993, for the number of days she was confined at The Family School in upstate New York from 1995 to 1998. She has been an EMT on the overnight shift, a therapist, a traumatologist, a social worker, a wife, a mother, a VA critical response team member, an amateur sleuth, a vigilante, an outcast, a three am call, a FOIA requester, a suicide hotline operator (both official and unofficial), a friend, a mentor, a bunker buddy, a serial social media poster, and the worst nightmare for the people who for three years tortured her and her friends. Her hashtag #ISeeYouSurvivor has been posted more than 237 million times. She has been featured in two investigative articles in the New York Times and a documentary film. She lives in an undisclosed location.
 
Bret Witter has co-authored eight New York Times bestsellers. His books have sold more than 3 million copies, been translated into more than thirty languages, and been made into two movies: one starring George Clooney and the other Jake Gyllenhall. He lives in Georgia.
Praise For…
---
"Searing, profane, horrifying, but ultimately hopeful—read
I See You, Survivor
to understand how abuse is sold to parents as treatment for "troubled teens" and why these programs must be stopped.  Liz's story is hard to take, but thousands of young people have survived similar attack therapies and many are still being forced into "wilderness programs," "boot camps," "emotional growth," and "therapeutic" boarding schools today. A must-read for anyone concerned about teenage mental health and how systems intended to help can go terribly wrong."—
Maia Szalavitz, NYT bestselling author of Unbroken Brain and co-author of The Boy Who Was Raised as a Dog
"A ferocious, raw, and inspiring story of triumph over trauma—and a powerful reminder that we must listen to those our society is far too quick to dismiss as broken or lost."—
Beth Macy, NYT bestselling author of Dopesick
"This book is deep. It will get deep into your mind, and deep into your heart. But it's also fire. Liz Ianelli came here to burn down their lies and save her people, and you can feel her heat on every page. You won't forget it. You'll be changed. Because I See You, Survivor issues the same challenge as every great memoir: You heard the triumphs I made out of my pain, my anger, and my failures. Now what are you going to make out of yours?"
—
Chris Wilson, author of The Master Plan
"In between bombshell revelations, Ianelli celebrates the resilience of her fellow survivors. Her quest for justice against so-called "tough love" schools that allow abusers to act with near-impunity is incendiary and uncompromising. … this unflinching memoir presents a moving message of triumph over trauma."—
Publisher's Weekly
"A devastating explication of widespread overlooked abuse and a call for change that must be heeded."
—
Kirkus Reviews