The New Goliaths: How Corporations Use Software to Dominate Industries, Kill Innovation, and Undermine Regulation (Hardcover)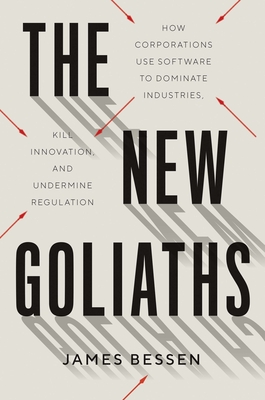 $30.00

Backordered at our distributor but we can check availability from the publisher.
Description
---
An approach to reinvigorating economic competition that doesn't break up corporate giants, but compels them to share their technology, data, and knowledge
 
"Bessen is a master of unpacking the nuances of a complex array of interrelated trends to build a coherent story of how the promise of the democratized Internet ended up under the control of just a few. Read The New Goliaths to see how the forest came to have only room for a few tall trees with the rest of us in the undergrowth."—Joshua Gans, coauthor of Prediction Machines: The Simple Economics of Artificial Intelligence
 
Historically, competition has powered progress under capitalism. Companies with productive new products rise to the top, but sooner or later, competitors come along with better innovations and disrupt the threat of monopoly. Dominant firms like Walmart, Amazon, and Google argue that this process of "creative destruction" prevents them from becoming too powerful or entrenched.
 
But the threat of competition has sharply decreased over the past twenty years, and today's corporate giants have come to power by using proprietary information technologies to create a tilted playing field. This development has increased economic inequality and social division, slowed innovation, and allowed dominant firms to evade government regulation. In the face of increasing calls to break up the largest companies, James Bessen argues that a better way to restore competitive balance and dynamism is to encourage or compel these companies to share technology, data, and knowledge.
About the Author
---
James Bessen is executive director of the Technology and Policy Research Institute at the Boston University School of Law. He is the author of Learning by Doing: The Real Connection between Innovation, Wages, and Wealth. He lives in Harpswell, ME.
Praise For…
---
"Besson's analysis of the role of information technology in the new economy is an interesting one and worth reading."—Robert Atkinson, New York Journal of Books

"Makes a compelling case. . . . The New Goliaths is an important book."—David Warsh, EconomicPrincipals.com

"Bessen is a master of unpacking the nuances of a complex array of interrelated trends to build a coherent story of how the promise of the democratized Internet ended up under the control of just a few. Read The New Goliaths to see how the forest came to have only room for a few tall trees with the rest of us in the undergrowth."—Joshua Gans, coauthor of Prediction Machines: The Simple Economics of Artificial Intelligence

"Information technologies—from the early bar code to cloud computing and artificial intelligence—are transforming our economy. Do firms use these technologies for the greater good or do they take advantage of lax oversight to increase their power and harm workers, consumers, and citizens? How should we regulate the New Goliaths of the digital age? Jim Bessen uses his broad experience and deep knowledge to shed light on these fundamental and contentious issues."—Thomas Philippon, author of The Great Reversal

"Jim Bessen offers the first detailed account of how concretely the IT revolution ended up discouraging growth and creative destruction in the overall economy while dramatically increasing market concentration and income inequality. This book is an absolute must-read for scholars, policy makers, and anyone interested in the history of growth, innovation, and technological revolutions."—Philippe Aghion, coauthor of The Power of Creative Destruction

"The New Goliaths is a deeply researched and innovative interpretation of how software innovation has produced more concentrated markets, higher inequality, and slower innovation, productivity growth, and new firm formation."—Yochai Benkler, author of The Wealth of Networks: How Social Production Transforms Markets and Freedom