Germany and the Ottoman Railways: Art, Empire, and Infrastructure (Hardcover)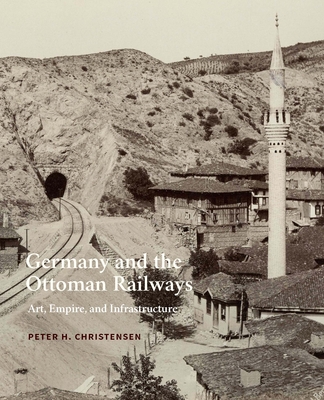 Description
---
The complex political and cultural relationship between the German state and the Ottoman Empire is explored through the lens of the Ottoman Railway network, its architecture, and material culture

With lines extending from Bosnia to Baghdad to Medina, the Ottoman Railway Network (1868–1919) was the pride of the empire and its ultimate emblem of modernization—yet it was largely designed and bankrolled by German corporations. This exemplifies a uniquely ambiguous colonial condition in which the interests of Germany and the Ottoman Empire were in constant flux. German capitalists and cultural figures sought influence in the Near East, including access to archaeological sites such as Tell Halaf and Mshatta. At the same time, Ottoman leaders and laborers urgently pursued imperial consolidation. Germany and the Ottoman Railways explores the impact of these political agendas as well as the railways' impact on the built environment. Relying on a trove of previously unpublished archival materials, including maps, plans, watercolors, and photographs, author Peter H. Christensen also reveals the significance of this major infrastructure project for the budding disciplines of geography, topography, art history, and archaeology.
About the Author
---
Peter H. Christensen is assistant professor of art history at the University of Rochester.
Praise For…
---
Winner of the 2020 Alice Davis Hitchcock Book Award, sponsored by the Society of Architectural Historians

"Peter Christensen takes the reader on a fascinating journey across geographical and disciplinary boundaries in this nuanced history of the Ottoman Empire's German-built railway network. His thoughtful exploration of cartography, engineering, and architecture confronts and challenges broader issues of geopolitics, multiculturalism, and orientalism."—Dietrich Neumann, Brown University

"Peter Christensen's story of the German construction of railroads in the final decades of the Ottoman Empire provides a perceptive exploration of the relationship between the empire, its hinterlands, and Europe that has continued relevance today."—Kathleen James-Chakraborty, University College Dublin

"Moving fluidly between different territories and disciplines like a train that travels on the Ottoman railways whose history he writes, Peter Christensen connects visual, architectural, military, cartographic, and archaeological histories to prove the sociopolitical importance of this crucial infrastructure project."—Esra Akcan, author of Architecture in Translation

Thank you for shopping local!