Finding Ireland: A Poet's Explorations of Irish Literature and Culture (Paperback)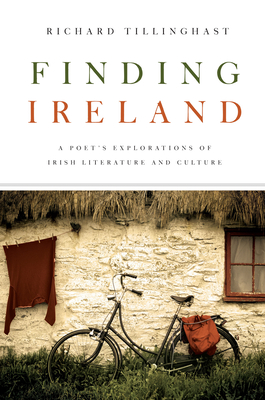 $25.00

Not in the store. We can order it and should have it in store in 3-5 business days.
Description
---
Richard Tillinghast, a celebrated American poet and critic, lived for a year in Ireland in the early 1990s and then returned each year until he became a resident in 2005. From an insider/outsider perspective, he writes vividly and evocatively about the land and people of his adopted home, its culture, its literature, and its long, complex history.
Tillinghast orients the reader to Ireland as it is today. Following its entry into the European Union, Ireland changed radically from an impoverished, provincial, former British colony to a country where a farmer takes his wife on skiing holidays in Switzerland and is proud of his wine cellar, to one now home to immigrants from Europe, Africa, and Asia. For many Americans--Irish Americans in particular--Ireland is a mythic and timeless land; from his unique vantage point, Tillinghast debunks a good many stereotypes that prevent our seeing Ireland for what it was, as well as what it has become.
Most of Finding Ireland is devoted to thoughtful readings of the works of Irish writers and playwrights, including W. B. Yeats, Seamus Heaney, Oscar Wilde, and Brian Friel, as well as lesser-known names that deserve a wider readership. Tillinghast also considers the significant contributions of Anglo-Irish authors--John Millington Synge, Elizabeth Bowen, George Moore, Violet Martin and Edith Somerville, William Trevor, and Derek Mahon--with excursions into Irish architecture, music, and garden design.
In contemporary Ireland, Tillinghast finds a dynamic society that has stepped out of the shadows of its troubled past to embrace an inclusive, outward-looking interpretation of its history. Intimate in tone, entertaining, and always accessible, Finding Ireland captures an expatriate's enthusiasm for his new country and its evolving identity.
About the Author
---
Richard Tillinghast is a poet and critic. His most recent poetry and essay collections are The New Life and Poetry and What Is Real, respectively. He is a frequent contributor to literary journals and magazines, and publishes reviews and travel articles in The New York Times. He lives in County Tipperary.
Praise For…
---
". . . this book is not about Richard Tillinghast finding himself, but about his helping us to find Ireland. It needs finding because large parts of it seem to have been mislaid, or gone altogether. There is, for instance, the Anglo-Irish tradition. . . . Best of all, are Tillinghast's chapters on contemporary poets. He has long enjoyed a reputation as one of the top reviewers of poetry in the U.S. . . . Finding Ireland is written for Americans. . . . Yet the book deserves a readership both here and there. It enacts the belief that literature is a form of pleasure, woven out of history and society, and weaving its way into the personal lives of readers anywhere." —The Irish Times 
"Richard Tillinghast is an American poet, critic and resident of County Tipperary; as such his 'intent is to serve the non-Irish reader as a foreign correspondent, reporting back from Galway, Dublin, and other parts of this island.' This position of the 'American blow-in' enables him to provide convincing reappraisals of writers such as Somerville and Ross, and 'that unique and asymmetrical man' George Moore. . . . Tillinghast is instructive on where to find the best 'trad music' venues in Clare and Galway counties . . . has a poet's sensitivity to landscape and history . . . is knowledgeable on architecture. . . . Tillinghast is especially insightful on well-established names such as Derek Mahon and that 'quintessentially circumspect poet,' Dennis O'Driscoll." —Times Literary Supplement
"Mr. Tillinghast conducts a series of critical investigations into Irish poetry, prose, playwriting and architecture through a miscellany of short pieces. Throughout he combines a convert's zeal for Ireland's finest cultural artifacts with an outsider's fresh perspective—most strikingly arguing that Protestant literature is the critical locus in which to find Ireland itself. . . . Tillinghast is a wonderful writer with great depths of knowledge and powers of analysis. . ." —The Wall Street Journal
"Richard Tillinghast's
Finding Ireland
is a gathering of memoirs, travelogues, reviews, 'letters from Ireland,' and familiar essays, in which the American poet explores Irish culture mainly through the works of modern Irish writers. . . . In tones ranging from the professorial to the celebrative to the elegiac, he writes with authority on subjects as diverse as the poetry of Derek Mahon, the fiction of William Trevor, the plays of Brian Friel, the felicities of Irish traditional music, and the surviving pleasures of rural Irish life, where 'there is still a place by the fire and a cup of tea for the visitor in the farmhouse kitchen.'" —
Sewanee Review
"In Finding Ireland: A Poet's Exploration of Irish Literature and Culture, Richard Tillinghast explores how he came to be an Irish resident and how Irish culture has affected him as well as the nation's famous literary canon. . . . Finding Ireland is at its best when Tillinghast celebrates the likes of Yeats, as well as contemporary writers such as William Trevor and Brian Friel." —Irish America Magazine
Thank you for shopping local!