In the Black Fantastic (Hardcover)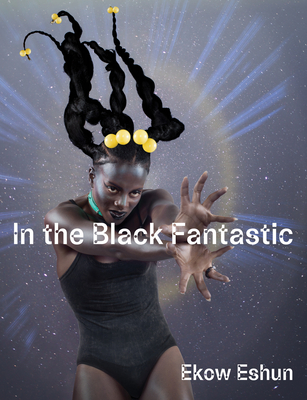 $39.95

Should be on our shelves now -- but wait for confirmation from us before coming to pick up. We'll respond to your order shortly.
Description
---
A richly illustrated exploration of Black culture at its most wildly imaginative, artistically ambitious, and politically urgent.

A richly illustrated exploration of Black culture at its most wildly imaginative and artistically ambitious, In the Black Fantastic assembles art and imagery from across the African diaspora. Embracing the mythic and the speculative, it recycles and reconfigures elements of fable, folklore, science fiction, spiritual traditions, ceremonial pageantry, and the legacies of Afrofuturism. In works that span photography, painting, sculpture, cinema, graphic arts, music and architecture, In the Black Fantastic shows how speculative fictions in Black art and culture are boldly reimagining perspectives on race, gender and identity.
 
Standing apart from Western narratives of progress and modernity premised on the historical subjugation of people of color, In the Black Fantastic celebrates the ways that Black artists draw inspiration from African-originated myths, beliefs, and knowledge systems, confounding the Western dichotomy between the real and unreal, the scientific and the supernatural. Featuring more than 300 color illustrations, this beautifully designed book brings together works by leading artists such as Kara Walker, Chris Ofili, and Ellen Gallagher; explores groundbreaking films like Daughters of the Dust and Get Out; considers the radical politics of pan-Africanism and postcolonialism; and much more.
 
Each section—"Invocation," "Migration," and "Liberation"—includes an introductory text by Ekow Eshun and longer essays by Eshun, Kameelah L. Martin, and Michelle D. Commander.

Artists featured: Larry Achiampong, Jim Adams, Djeneba Aduayom, Leonce Raphael Agbodjelou, John Akomfrah, David Alabo, Edgar Arceneaux, Marc Asekhame, Belkis Ayón, Radcliffe Bailey, Raphaël Barontini, Beddo, Sanford Biggers, Nuotama Bodomo, Nick Cave, Sedrick Chisom, Jacek Chyrosz, Coldefy, Raffaele Contigiani, Damon Davis, Cristina de Middel, Imani Dennison, Jeff Donaldson, Kimathi Donkor, Aaron Douglas, Edouard Duval-Carrié, Curtis Essel, Minnie Evans, Rotimi Fani-Kayode, Ali Fao, Raymond Thomas Farah, Adama Delphine Fawundu, Heinz Fenchel, Ellen Gallagher, Rico Gatson, Maïmouna Guerresi, Prince Gyasi, Lauren Halsey, Allison Janae Hamilton, Thomas Heatherwick, Kiluanji Kia Henda, Kordae Jatafa Henry, David Huffman, Juliana Huxtable, Zas Ieluhee, Alex Jackson, Ayana V. Jackson, Fabiola Jean-Louis, Shintaro Kago, Kéré Architecture, Black Kirby, Victoria Kovios, Wole Lagunju, Wifredo Lam, Jean François Lamoureux, Thomas Leitersdorf, Namsa Leuba, Hew Locke, Michael MacGarry, Gerald Machona, Loïs Mailou Jones, Jean-Louis Marin, Markn, Kerry James Marshall, Moshel Mayer, Mohau Modisakeng, Puleng Mongale, Fabrice Monteiro, Ronald Moody, Kristin-Lee Moolman, Jean-Claude Moschetti, Aïda Muluneh, Wangechi Mutu, Gustavo Nazareno, Rashaad Newsome, Daniel Obasi, Toyin Ojih Odutola, Chris Ofili, Ruby Okoro, Rinaldo Olivieri, Yaoundé Olu, Zohra Opoku, Tasha Orlova, Frida Orupabo, Gordon Parks, Jordan Peele, James Phillips, Naudline Pierre, Keith Piper, Robert Pruitt, Umar Rashid, Robert Reed, Tabita Rezaire, Stacey Robinson, Athi-Patra Ruga, Stanisław Rymaszewski, Alison Saar, Zina Saro-Wiwa, Ignace Sawadogo, Devan Shimoyama, Yinka Shonibare, Mary Sibande, Lorna Simpson, Cauleen Smith, Tavares Strachan, Mickalene Thomas, Bob Thompson, Wilfred Ukpong, David Uzochukwu, Lina Iris Viktor, William Villalongo, Hannsjörg Voth, Kara Walker, Gerald Williams, Kandis Williams, Peter Williams, Saya Woolfalk, Alisha B. Wormsley, Zaha Hadid Architects
About the Author
---
Ekow Eshun is a writer and curator based in London. Formerly Director of the Institute of Contemporary Arts, he is the author of Black Gold of the Sun and Africa State of Mind.

Michelle D. Commander is Associate Director of the Schomburg Center for Research in Black Culture in New York and the author of Afro-Atlantic Flight.

Kameelah L. Martin is Dean of the graduate school of African American Studies and English at the College of Charleston.
Praise For…
---
A Publishers Weekly Indie Picks for fall 2022
Featured in the New York Times 2022 Holiday Gift Guide 
Featured in AARP, the Magazine's "Books to Give and Get" 2022 Holiday Gift Guide 
Featured in The Globe & Mail's 2022 Holiday Gift Guide
Featured in Bookshop.org's 2022Coffee Table Books Holiday Gift Guide 

"In this exciting, wide-ranging collection, Eshun presents speculative art and imagery from the African diaspora with a focus on folklore and Afrofuturism and explores works such as the paintings of Kara Walker and Chris Ofili and Jordan Peele's Get Out."
—New York Times Book Review

"Eshun offers a primer on what the "Black Fantastic" encompasses: works of art that incorporate myth, fantasy and science fiction to reimagine Black culture and identity."
—The Washington Post Book World

"This gorgeous, unique book explores Black culture through wildly imaginative art and photography."
—AARP, the Magazine

"The accompanying book, published by The MIT Press, is a bold and vital collection of artists working at the dissolving boundary between real and unreal, natural and supernatural. Curator and writer Ekow Eshun defines the Black fantastic as "works of speculative fiction that draw from history and myth to conjure new visions of African diasporic culture and identity," writing in his illuminating introduction of the way W.E.B. Du Bois's concept of "double consciousness" serves as "a prompt for Black people to imagine ourselves on our own terms." Besides an electrifying range of artwork, the book includes essays on Black feminist voodoo aesthetics, "Flying Africans, Technology, and the Future," and "Race in Space.""
—The Boston Globe

"Science Fiction and fantasy have long been understood as genres in which we can at once critique the existing social order and imagine a better one. In a contemporary world defined by crisis and chaos, the allure of these creative modes has grown even more powerful. And if you look at today's cultural landscape, you will find it saturated with a turn to the speculative and fantastic, splashed across everything from Marvel's box office ubiquity to TV dramas like "Eshun recycles and reconfigures elements of folklore, science fiction, spiritual traditions, ceremonial pageantry, and the legacies of Afrofuturism in this exploration of Black culture. The three sections—"Invocation," "Migration," and "Liberation"—feature works from leading artists such as Ellen Gallagher, Chris Ofili, and Kara Walker, and dozens of others, and celebrate the ways that Black artists draw inspiration from African myths, beliefs, and knowledge systems."
—Publishers Weekly

"Based on the first British exhibition dedicated to the work of imaginative Black artists (such as Nick Cave and Kara Walker) who incorporate fantasy, myth, sci-fi folklore and Afrofuturism to push boundaries and reimagine identity."
—The Globe & Mail


"Fortunately, for anyone who missed the show, this new book, edited by curator Eshun, provides not only a stunning approximation of the original spectacle but adds layers of historical context and conceptual insight..."It explores a vast territory of human experience, pursuing extremes of pain and hope in a dizzying array of concepts that flout conventions and expectations. In this sense, In the Black Fantastic is overwhelming in the most invigorating way possible, accruing an atmosphere of images and ideas that requires an iterative reading and viewing practice. The key, perhaps, is in the title: In the Black Fantastic beckons you into an immersive mode and mindset. While no book could capture what it must have felt like to be in the exhibition itself, this volume comes as close as any could. I spent hours turning these pages, returning repeatedly to the always surprising shuffle of images in-between my time with the text, often starting over to view the whole book anew after finishing reading a particular section. Never, even after all the words were done, did I feel a total comprehension of what I had viewed. Indeed, because, eluding paraphrase, the visual wealth of In the Black Fantastic must be seen and experienced to be appreciated."
—Full Stop


Reviews for In the Black Fantastic Exhibition at Hayward Gallery in the UK

"Eshun's Black Fantastic is an attempt — informed by conversations he had with the exhibition's artists — to define Black creativity and imagination on its own terms...At its core, the Black Fantastic grapples with a paradox every marginalized community faces: how to acknowledge the "other" as a construct while also celebrating the unique power of difference, and the imagination that pours forth from it. As a result, many of the works exhibited at the Hayward land somewhere between joy and grief, with jubilance and the macabre meeting in a soaring, melancholy overture."
—the New York Times

"Visually stunning, intellectually cohesive. Ekow Eshun's exhilarating exhibition shows black art on the move and creating fresh idioms."
—the Financial Times

"In the Black Fantastic at Hayward Gallery review: Unlikely to be a better show this year. This fascinating collection of artistic work is immediately stimulating yet deeply resonant."
—Evening Standard

"If we are to move towards a truly decolonized art world then we must realize that it should not require an artist to fit neatly or repeatedly into a category – especially those narrowly defined by geography, gender or any other shallow definition. Nor should it shoehorn artists into art historical movements and philosophies that deny their full human experiences. We must resist the trappings of the canon. Exhibitions like this show us how."
—The Guardian

"In the Black Fantastic Is The Must-See Exhibition Of The Summer. On 29 June, the Hayward Gallery hosted the opening of the highly anticipated new exhibition In the Black Fantastic. Curated by Ekow Eshun, the writer, broadcaster and chair of the Fourth Plinth Commissioning Group, it is the UK's first exhibition dedicated to the work of Black artists who use the realm of the fantastical – including mythology, folklore, spiritual traditions, science fiction and Afrofuturism – to explore racial injustices and identity. In Eshun's own words, it's "a way of acknowledging, a way of looking at the racialised everyday beyond the constraints that the Western imaginary has put around Black beings, Black personhood and Black experiences." He continues: 'In a world where we are constantly, as Black people, subject to the fantasies and myths of others, one of the ways through for us is to embrace the fantastic. Not as an escape from reality, but as a way to explore further the possibilities and the imaginative reaches of our own experience of being. Essentially, In the Black Fantastic is about saying there is no finite criteria or barrier to what being Black looks like.'"
 —British Vogue

"In June, London's Hayward Gallery opened 'In the Black Fantastic' to immediate acclaim. Vogue hailed it the 'must-see exhibition of the summer,' and the Guardian raved 'spectacular from first to last.' If you can't make it to the show, which features 11 artists of the African diaspora, before it closes Sept. 18, you might consider picking up curator Ekow Eshun's companion book. The book includes images of art in the exhibition, by the likes of Kara Walker and Nick Cave, as well as other works that explore similar worldviews. Eshun offers a primer on what the "Black fantastic" encompasses: works of art that incorporate myth, fantasy and science fiction to reimagine Black culture and identity."
–Washington Post