Hopeless But Optimistic: Journeying Through America's Endless War in Afghanistan (Hardcover)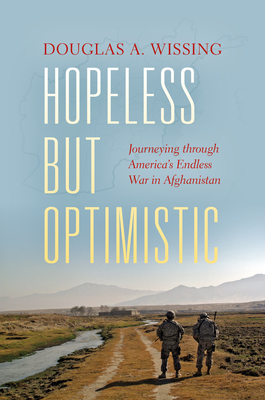 $30.00

Backordered at our distributor but we can check availability from the publisher.
Description
---
Award-winning journalist Douglas A. Wissing's poignant and eye-opening journey across insurgency-wracked Afghanistan casts an unyielding spotlight on greed, dysfunction, and predictable disaster while celebrating the everyday courage and wisdom of frontline soldiers, idealistic humanitarians, and resilient Afghans. As Wissing hauls a hundred pounds of body armor and pack across the Afghan warzone in search of the ground truth, US officials frantically spin a spurious victory narrative, American soldiers try to keep their body parts together, and Afghans try to stay positive and strain to figure out their next move after the US eventually leaves. As one technocrat confided to Wissing, "I am hopeless--but optimistic."
Wissing is everywhere in Afghanistan, sharing an impressionistic view from little white taxis coursing across one of the world's most mine-ridden places; a perilous view from outside the great walls surrounding America's largest base, sequestered Bagram Air Field; and compelling inside views from within embattled frontline combat outposts, lumbering armored gun trucks and flitting helicopters, brain trauma clinics, and Kabul's Oz-like American embassy. It's Afghan life on the streets; the culture and institutions that anneal them; the poetry that enriches them. It includes the perspectives of cynical military lifers and frightened short-timers; true believers and amoral grabbers; Americans and Afghans trying to make sense of two countries surreally contorted by war-birthed extractive commerce.
Along with a deep inquiry into the 21st-century American way of war and an unforgettable glimpse of the enduring culture and legacy of Afghanistan, Hopeless but Optimistic includes the real stuff of life: the austere grandeur of Afghanistan and its remarkable people; warzone dining, defecation, and sex; as well as the remarkable shopping opportunities for men whose job is to kill.
About the Author
---
Douglas A. Wissing is an award-winning journalist and author of eight books, including Funding the Enemy: How US Taxpayers Bankroll the Taliban and Pioneer in Tibet: The Life and Perils of Dr. Albert Shelton. He has written for the New York Times, Washington Post, Los Angeles Times, CNN.com, Fox.com, Salon.com, and Time.com, among other publications.