Laughing to Keep from Dying: African American Satire in the Twenty-First Century (New Black Studies Series) (Paperback)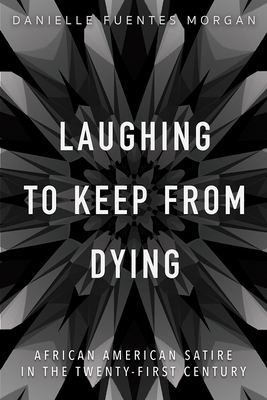 $29.94

Backordered at our distributor but we can check availability from the publisher.
Description
---
By subverting comedy's rules and expectations, African American satire promotes social justice by connecting laughter with ethical beliefs in a revolutionary way. Danielle Fuentes Morgan ventures from Suzan-Lori Parks to Leslie Jones and Dave Chappelle to
Get Out
and
Atlanta
to examine the satirical treatment of race and racialization across today's African American culture. Morgan analyzes how African American artists highlight the ways that society racializes people and bolsters the powerful myth that we live in a "post-racial" nation. The latter in particular inspires artists to take aim at the idea racism no longer exists or the laughable notion of Americans "not seeing" racism or race. Their critique changes our understanding of the boundaries between staged performance and lived experience and create ways to better articulate Black selfhood.
Adventurous and perceptive, Laughing to Keep from Dying reveals how African American satirists unmask the illusions and anxieties surrounding race in the twenty-first century.
About the Author
---
Danielle Fuentes Morgan is an assistant professor in the Department of English at Santa Clara University.
Praise For…
---
"Exceedingly well-written, well-researched . . . Recommended." --Choice

"In Laughing to Keep from Dying, Danielle Fuentes Morgan crafts an innovative and well-considered account of African-American satire. . . . Morgan's prose is clear and engaging, and her language accessible and compelling." --Journal of American Culture

"A satisfying read for anyone with an interest in how entertainment responds to a shifting social landscape. " --Atlantic

"Morgan explores a radical impulse in recent Black comedy, arguing that performers like Dave Chappelle or films like 'Get Out' aim to highlight racial boundaries." --New York Times

​"Many comics hone their craft primarily to amuse, but with this thoughtful, academic work, Morgan explores the idea of Black satire with an added function: to more or less safely rock the boat, expressing ideas that might otherwise be tuned out or provoke uncomfortable or even dangerous backlash." --Library Journal

"Danielle Fuentes Morgan's Laughing to Keep from Dying is a major contribution to African American literary and cultural studies and to the study of satire and other forms of humor in the United States. Taking as her focus satirical texts in the twenty-first century, Morgan argues that recent African American satirical works reassert an ethical position present in black cultural expressions since slavery, that literature and art instantiate a humanity that its authors perennially assume to be a matter of fact. But rather than positing respectability politics, contemporary African American satire advocates a 'kaleidoscopic blackness,' one that embraces the many subtle and subversive ways that black people make meaning. Contemporary African American satire, as the title indicates, is more than a salve for oppression; its purpose is to keep black people from dying. In this stunning debut, Morgan places herself in the company of Glenda Carpio, Terrence Tucker, and most recently Lisa Guerrero."--Darryl Dickson-Carr, author of Spoofing the Modern: Satire in the Harlem Renaissance

"Danielle Fuentes Morgan attunes readers to the variable registers and resonances of Black laughter in the present moment. Examining a wide range of media, from novels and television series to standup comedy and performance art, Morgan shows how the satirical impulse in Black cultural production expresses not only collective histories of subversion but individual practices of survival. A bold account of humor's capacity to traverse the realms of sociality and interiority, Laughing to Keep from Dying is a model of Black study for the twenty-first century." --Kinohi Nishikawa, author of Street Players: Black Pulp Fiction and the Making of a Literary Underground