DK Eyewitness Road Trips California (Travel Guide) (Paperback)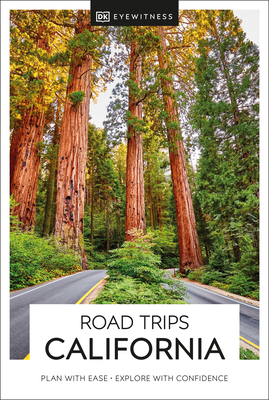 $24.99

Likely on our shelves now
Description
---
Take your time with this California road trip travel guide and discover 24 leisurely drives through snow-capped mountains, towering redwood forests, and majestic national parks.

Traveling to California? Driving is the perfect way to appreciate its variety and grandeur — with spectacular coastline, searing deserts, glacier-carved canyons, cosmopolitan cities and sleepy Gold Rush-era towns. 

Inside this updated California travel guide, you'll find:

   • A fresh new design: Road Trips is an exciting new take on the DK Eyewitness Back Roads series, redesigned and fully updated
   • 24 easy-to-follow scenic driving tours, each lasting one to five days
   • A laminated pull-out road map of California and high-quality maps throughout help you navigate with ease
   • Information on California's rules of the road, postcodes for use with GPS, plus useful advice on road conditions, speed limits and parking
   • Hotels, restaurants, shops, and vineyards where you can savor superb local food and wine
   • The best experiences along each route: get active on boats, bikes and surfboards, or discover the state's fine art and Wild West history
   • A perfect combination of practical information and ideas to inspire an unforgettable road trip, as well as walks, activities and delightful detours to do along the way
   • Covers Wine Country, the Mojave Desert, Gold Rush-era towns, Yosemite National Park and more

With its iconic coastal highways, lush wine regions and mammoth national parks, California promises to be the adventure of a lifetime. It's yours to explore with DK Eyewitness Road Trips California, our redesigned and newly updated guide containing 24 drives across the country, from the surfer-studded beaches of Big Sur to the towering redwoods of Yosemite National Park.

Packed with insider tips and information, this easy-to-use travel book reveals the best of California. We've also worked hard to make sure our information is as up-to-date as possible following the COVID-19 outbreak.

Get off the beaten path and experience the authentic personality of this beautiful state, revealing breathtaking views, hidden gems and memorable experiences that can only be discovered by road. Packed with practical information, detailed maps, and inspiring ideas, this beautiful travel guide will lead you to the scenic back roads waiting to be discovered just off the freeway.

Looking for a comprehensive guide to the whole of California? Try our DK Eyewitness California.
Thank you for shopping local!