La guerre d'indépendance des Canadas: Démocratie, républicanismes et libéralismes en Amérique du Nord (Studies on the History of Quebec) (Paperback)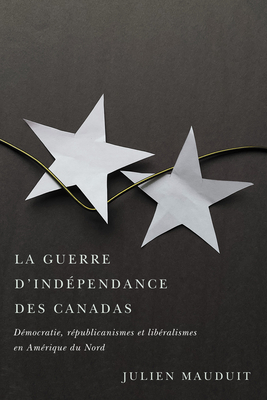 $47.94

Not in the store. We can order it and should have it in store in 3-5 business days.
Description
---
Longtemps considérée comme une rébellion mineure, la tentative de révolution de 1837 a en réalité secoué l'ensemble de l'Amérique du Nord, menaçant de renvoyer le pouvoir britannique hors du continent, mais également d'inaugurer une expérience républicaine différente. La révolution a échoué, mais les idées qu'elle a véhiculées - tant progressistes qu'élitistes - résonnent encore aujourd'hui. L'auteur se penche sur les réseaux des patriotes canadiens en exil aux États-Unis en s'appuyant sur des sources canadiennes et étasuniennes. En sollicitant le soutien de leurs « frères » au sud de la frontière, les rebelles ont poussé les autorités des États-Unis à coopérer activement avec l'Empire britannique, dans un dénigrement surprenant de leurs racines révolutionnaires et antibritanniques. Initialement favorables à l'annexion des Canadas aux États-Unis, les patriotes ont dû repenser leur avenir en dehors d'une république qui affichait ses faiblesses. Ils ont envisagé de fonder leur propre république à « deux étoiles », avec l'espoir de régénérer la démocratisation en Amérique et de teinter la transition au capitalisme moderne de morale, de responsabilité sociale et de bienveillance envers les travailleurs manuels. Le livre explore cette guerre singulière en se penchant sur un large éventail d'acteurs, de faits et de questions historiques, comme le nationalisme, les rapports de force politiques ou encore les idéaux des « droits égaux » et du « laissez-nous faire ». En proposant un regard novateur et informé sur un évènement que nous pensions bien connaître, La guerre d'indépendance des Canadas suscitera la discussion pendant de nombreuses années.
About the Author
---
Julien Mauduit est stagiaire postdoctoral à la Johns Hopkins University.
Praise For…
---
« Dans cette excellente étude, Mauduit remet en question ce qu'il appelle l'interprétation "nationalitaire" des Rébellions au Bas-Canada, avec son accent sur le conflit interethnique. Il adopte une approche plus nuancée, mettant de l'avant la dimension idéologique républicaine et décloisonnant les Rébellions en les situant dans leur contexte continental, intellectuel et politique plus large. » Donald Fyson, Université Laval
Thank you for shopping local!