Foundations of Ecology II: Classic Papers with Commentaries (Paperback)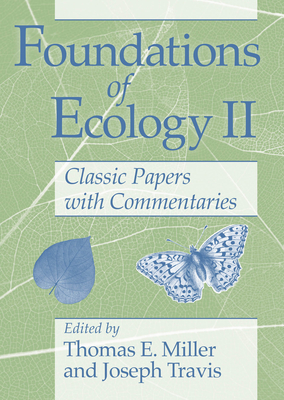 Description
---
The classic papers that laid the foundations of modern ecology alongside commentaries by noted ecologists.

The period of 1970 to 1995 was a time of tremendous change in all areas of ecology—from an increased rigor for experimental design and analysis to the reevaluation of paradigms, new models for understanding, and theoretical advances. Edited by ecologists Thomas E. Miller and Joseph Travis, Foundations of Ecology II includes facsimiles of forty-six papers from this period alongside expert commentaries that discuss a total of fifty-three key studies, addressing topics of diversity, predation, complexity, competition, coexistence, extinction, productivity, resources, distribution, abundance, and conservation. The result is more than a catalog of historic firsts; this book offers diverse perspectives on the foundational papers that led to today's ecological work. Like this book's 1991 predecessor, Foundations of Ecology edited by Leslie A. Real and James H. Brown, Foundations of Ecology II promises to be the essential primer for graduate students and practicing ecologists for decades to come.
About the Author
---
Thomas E. Miller is professor in the Department of Biological Science at Florida State University. He has authored over one hundred papers published in peer-reviewed outlets, with his work appearing in American Naturalist, Ecology, and Global Ecology and Biogeography.

Joseph Travis is the Robert O. Lawton Distinguished Professor in the Department of Biological Science at Florida State University and the former editor of American Naturalist. He is coeditor of Evolution: The First Four Billion Years.
Praise For…
---
"The ecological literature has grown explosively in the past few decades. Having a compilation of papers that experts consider most significant is highly valuable, particularly for students less familiar with the field. The editorial commentaries, which thoughtfully lay out the historical development of subfields of ecology, will be appreciated by an even broader readership. As a whole, Foundations of Ecology II is a worthy extension of the now-classic first volume."
— Judith L. Bronstein, University of Arizona