Enemies of Promise (Paperback)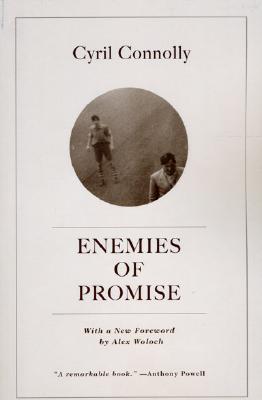 $17.00

Not in the store. We can order it and should have it in store in 3-5 business days.
Description
---

"Whom the gods wish to destroy," writes Cyril Connolly, "they first call promising." First published in 1938 and long out of print, Enemies of Promise, an "inquiry into the problem of how to write a book that lasts ten years," tests the boundaries of criticism, journalism, and autobiography with the blistering prose that became Connolly's trademark. Connolly here confronts the evils of domesticity, politics, drink, and advertising as well as novelists such as Joyce, Proust, Hemingway, and Faulkner in essays that remain fresh and penetrating to this day.
 
 "A fine critic, compulsive traveler, and candid autobiographer. . . . [Connolly] lays down the law for all writers who wanted to count. . . . He had imagination and decisive images flashed with the speed of wit in his mind."—V. S. Pritchett, New York Review of Books
 
"Anyone who writes, or wants to write, will find something on just about every single page that either endorses a long-held prejudice or outrages, and that makes it a pretty compelling read. . . . You end up muttering back at just about every ornately constructed pensée that Connolly utters, but that's one of the joys of this book."—Nick Hornby, The Believer
 
"A remarkable book."—Anthony Powell 
 
About the Author
---
Cyril Connolly (1903–74) was one of the most influential critics of his time, who wrote for such publications as the New Statesman, the Observer, and the Sunday Times. He is the author of many books, including The Rock Pool and The Unquiet Grave.
   
Praise For…
---
"Very ably introduced by Alex Woloch. . . . One of Connolly's great gifts was self-deprecation, and one of his easier styles was that of the tongue in the cheek. He puts one in mind of two of the great contemporaries about whom he wrote—George Orwell and Evelyn Waugh."
— Christopher Hitchens
"You cannot read Cyril Connolly for very long without wanting to acquire—and then developing—a relationship with the personality of the man himself. This small, podgy, balding, pug-faced, funny, gossipy, lazy, clever, cowardly, hedonistic, fractious, difficult man somehow manages to enshrine in his words and life everything that we aspire to, and that intellectually ennobles us, and all that is weak and worst in us as well."
— William Boyd
"A fine critic, compulsive traveler, and candid autobiographer. . . . [Connolly] lays down the law for all writers who wanted to count. . . . He had imagination and decisive images flashed with the speed of wit in his mind."
— V. S. Pritchett
"Anyone who writes, or wants to write, will find something on just about every single page that either endorses a long-held prejudice or outrages, and that makes it a pretty compelling read. . . . You end up muttering back at just about every ornately constructed pensée that Connolly utters, but that's one of the joys of this book."
— Nick Hornby
"A remarkable book."
— Anthony Powell