The Library: A World History (Hardcover)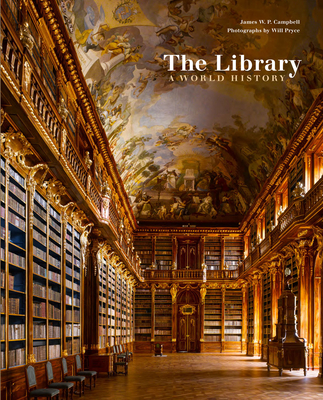 $75.00

Not in the store. We can order it and should have it in store in 3-5 business days.
Description
---
A library is not just a collection of books, but also the buildings that house them. As varied and inventive as the volumes they hold, such buildings can be much more than the dusty, dark wooden shelves found in mystery stories or the catacombs of stacks in the basements of academia. From the great dome of the Library of Congress, to the white façade of the Seinäjoki Library in Finland, to the ancient ruins of the library of Pergamum in modern Turkey, the architecture of a library is a symbol of its time as well as of its builders' wealth, culture, and learning. Architectural historian James Campbell and photographer Will Pryce traveled the globe together, visiting and documenting over eighty libraries that exemplify the many different approaches to thinking about and designing libraries. The result of their travels, The Library: A World History is one of the first books to tell the story of library architecture around the world and through time in a single volume, from ancient Mesopotamia to modern China and from the beginnings of writing to the present day. As these beautiful and striking photos reveal, each age and culture has reinvented the library, molding it to reflect their priorities and preoccupations—and in turn mirroring the history of civilization itself. Campbell's authoritative yet readable text recounts the history of these libraries, while Pryce's stunning photographs vividly capture each building's structure and atmosphere.  Together, Campbell and Pryce have produced a landmark book—the definitive photographic history of the library and one that will be essential for the home libraries of book lovers and architecture devotees alike.

About the Author
---
James W. P. Campbell is a fellow and director of studies in architecture and history of art at Queens' College, Cambridge. His most recent books include Brick: A World History (also with Will Pryce) and Building St Paul's. Will Pryce is an award-winning photographer based in London who originally trained as an architect. His previous books include World Architecture: The Masterworks, Big Shed, and The Architecture of Wood: A World History.

Praise For…
---
"In a new book, The Library: A World History, author James Campbell and photographer Will Pryce survey the world's libraries, from the expansive new National Library of China to the Tripitaka Koreana, which was built in 1251 in South Korea and is one of the oldest intact libraries in the world. The book is full of interesting asides."
— Boston Globe

"Campbell's new history of library architecture, with spectacular photographs by Pryce, takes us on a global tour . . . from the clay tablet storehouses of ancient Mesopotamia and the beautiful repositories of Buddhist sutra blocks and paper prints in Korea and Japan, to the grandiose designs and multimedia extravaganzas of the 21st century. . . .The Library: A World History puts such creations into long perspective, showing how book technology, readers' needs and architectural solutions have co-evolved (or, occasionally, been at loggerheads)."
— Financial Times

"The photographs by Will Pryce are technically flawless, and they give point and purpose to a text which is not only informative but persuasive. The message is clear: of the making of libraries there can be no end."
— Times Literary Supplement

"The Library is a fascinating look into the history of library buildings across time and space. With its large format and stunning photographs, the book is both decorative and educational, like the libraries it describes."
— Key Reporter