Music in Bali: Experiencing Music, Expressing Culture [With CD] (Global Music) (Paperback)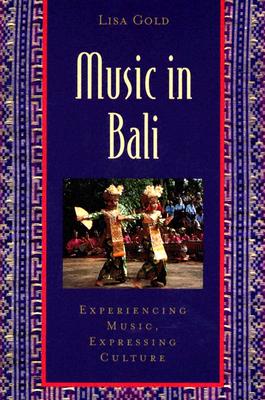 Description
---
Music in Bali is one of several case-study volumes that can be used along with Thinking Musically, the core book in the Global Music Series. Thinking Musically incorporates music from many diverse cultures and establishes the framework for exploring the practice of music around the world. It sets the stage for an array of case-study volumes, each of which focuses on a single area of the world. Each case study uses the contemporary musical situation as a point of departure, covering historical information and traditions as they relate to the present. Visit www.oup.com/us/globalmusic for a list of case studies in the Global Music Series. The website also includes instructional materials to accompany each study.
Music in Bali introduces the ensemble tradition of Balinese music, reflecting cooperative aspects of the island's social organization. Drawing on many years of study with Balinese performers in the United States and extensive fieldwork in Bali, author Lisa Gold presents contemporary Balinese performance within its cultural and historical context, linking Bali's rich past to its current role in modern, globalized society. She illustrates how new compositions borrow material from earlier traditions while also allowing for individual expression and innovation in vibrant present-day culture. By describing various performances--from a temple ceremony, to a shadow puppet performance, to a masked dance drama--Music in Bali surveys a wide range of performance contexts, from the highly sacred to the secular. It looks at the interconnected layers of the Balinese musical tradition, showing how the island's music, dance, theater, and ritual are intertwined.
Music in Bali is enhanced by eyewitness accounts of local performances, interviews with key performers, and vivid illustrations. Packaged with a 70-minute CD containing examples of the music discussed in the book, it features guided listening and hands-on activities that encourage readers to engage actively and critically with the music.

About the Author
---
Lisa Gold teaches at the University of California at Berkeley where she earned her Ph.D. in Ethnomusicology with a specialization in Balinese and Javanese music in ritual & theater, gamelan gender wayang, and shadow puppetry. Other research interests include transmission and communicability, folklore and folk music of the British Isles, oral performance and improvisation, music and space and place, mediatization, and performance eco-systems. Gold has been a Visiting Professor at a number of institutions including Colorado College. She is an active member of Gamelan Sekar Jaya, Gamelan Sari Raras and ShadowLight. She has performed and conducted extensive research in Bali and the U.S., and is the author of a number of articles, including a chapter in Performing Arts in Postmodern Bali: Changing Interpretations, Founding Traditions. Graz Studies in Ethnomusicology (2013), the Bali article in the New Grove Dictionary of Music and Musicians, and a published paper presented at theInternational Seminar and Festival of Indonesian Music, Smithsonian Institution, Washington DC (2016).