Minor Notes, Volume 1 (Paperback)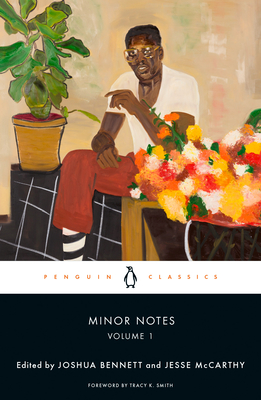 $16.00

Should be on our shelves now -- but wait for confirmation from us before coming to pick up. We'll respond to your order shortly.
Description
---
The first volume in an anthology series that amplifies the voices of unsung Black poets to paint a more robust picture of our national past, and of the Black literary imagination, with a foreword by Tracy K. Smith

A Penguin Classic

Joshua Bennett and Jesse McCarthy repeatedly found themselves struck by the number of exciting poets they came across in long-out-of-print collections and forgotten journals whose work has been neglected or entirely ignored, even by scholars of Black poetry. Minor Notes is an excavation initiative that recovers and curates archival materials from these understudied, though supremely gifted, African American poets of the nineteenth and twentieth centuries, and aims to bridge scholarly interest with the growing general audience who reads, writes, and circulates poetry within that tradition. As Minor Notes clarifies, the work of contemporary Black poets is perhaps best understood through the lens of a long-standing tradition of the poet as witness, as prophetic voice, as communal bard, and as scholar of the everyday and the miraculous. The poets featured in Volume 1 are George Moses Horton, Fenton Johnson, Georgia Douglas Johnson, Henrietta Cordelia Ray, David Wadsworth Cannon Jr., Anne Spencer, and Angelina Weld Grimké.
About the Author
---
Joshua Bennett is a Professor of English and Creative Writing at Dartmouth College. He is the author: The Sobbing School (Penguin, 2016) a finalist for an NAACP Image Award, Property Once Myself (Harvard, 2020) and Owed (Penguin, 2020). He received the 2021 Whiting Award for Poetry and Nonfiction. His first work of narrative nonfiction, Spoken Word: A Cultural History, is forthcoming from Knopf in 2023.

Jesse McCarthy is assistant professor of English and African and African American studies at Harvard University. He is an editor at the Point and has written for n+1, Dissent, the Nation, and the New Republic. His critically acclaimed essay collection Who Will Pay Reparations on My Soul? (Liveright 2021) was a NYT Editor's Choice.
Praise For…
---
"You feel you're meeting them on a human level. The book is slim and portable, as the best poetry books are (…) Bennett and McCarthy, in their introduction, set out their criteria for inclusion in 'Minor Notes.' They list things like 'minimal appearance' in anthologies and 'very little, if anything, in the way of secondary literature focusing on their work.' But it becomes plain that they chose these poets because they still speak across generations. This is a passion project.(…) This is a reclamation project that goes through you like a spear."
—Dwight Garner, The New York Times
 
"Joshua Bennett and Jesse McCarthy, both scholars of African American literature, aim to widen the canon of Black poetry by spotlighting poets who have been overlooked (…) giving readers an understanding of their unique voice and poetic concerns. (…) David Wadsworth Cannon Jr., Henrietta Cordelia Ray, Anne Spencer, and other poets interrogate everything from labor politics to friendship in finely wrought lyrics that delight and surprise, prompting the reader to wonder how these geniuses could have been sidelined for so long."
—Poets & Writers

"The first in a series recovering the out-of-print words of Black poets whose work shaped the 19th and 20th centuries, Minor Notes, Volume 1 draws a bright line between the creations of the past and those of today's bards. Curated by Joshua Bennett and Jesse McCarthy, while featuring a foreword from former poet laureate Tracy K. Smith, the book centers clear, resonant voices—like that of Angelina Weld Grimké's, who ruminates joyfully on the beauty of living in a Black body."
—Essence