Directorate S: The C.I.A. and America's Secret Wars in Afghanistan and Pakistan (Paperback)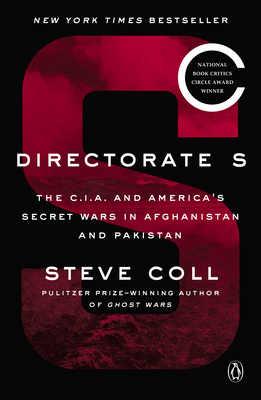 List Price: $19.00
Our Price: $18.00
(Save: $1.00 5%)
Should be on our shelves now -- but wait for confirmation from us before coming to pick up. We'll respond to your order shortly.
Description
---
Winner of the 2018 National Book Critics Circle Award for Nonfiction

Longlisted for the 2018 National Book Award for Nonfiction

From the Pulitzer Prize-winning author of Ghost Wars, the epic and enthralling story of America's intelligence, military, and diplomatic efforts to defeat Al Qaeda and the Taliban in Afghanistan and Pakistan since 9/11

Prior to 9/11, the United States had been carrying out small-scale covert operations in Afghanistan, ostensibly in cooperation, although often in direct opposition, with I.S.I., the Pakistani intelligence agency. While the US was trying to quell extremists, a highly secretive and compartmentalized wing of I.S.I., known as "Directorate S," was covertly training, arming, and seeking to legitimize the Taliban, in order to enlarge Pakistan's sphere of influence. After 9/11, when fifty-nine countries, led by the U. S., deployed troops or provided aid to Afghanistan in an effort to flush out the Taliban and Al Qaeda, the U.S. was set on an invisible slow-motion collision course with Pakistan.

Today we know that the war in Afghanistan would falter badly because of military hubris at the highest levels of the Pentagon, the drain on resources and provocation in the Muslim world caused by the U.S.-led invasion of Iraq, and corruption. But more than anything, as Coll makes painfully clear, the war in Afghanistan was doomed because of the failure of the United States to apprehend the motivations and intentions of I.S.I.'s "Directorate S". This was a swirling and shadowy struggle of historic proportions, which endured over a decade and across both the Bush and Obama administrations, involving multiple secret intelligence agencies, a litany of incongruous strategies and tactics, and dozens of players, including some of the most prominent military and political figures. A sprawling American tragedy, the war was an open clash of arms but also a covert melee of ideas, secrets, and subterranean violence.

Coll excavates this grand battle, which took place away from the gaze of the American public. With unsurpassed expertise, original research, and attention to detail, he brings to life a narrative at once vast and intricate, local and global, propulsive and painstaking.

This is the definitive explanation of how America came to be so badly ensnared in an elaborate, factional, and seemingly interminable conflict in South Asia. Nothing less than a forensic examination of the personal and political forces that shape world history, Directorate S is a complete masterpiece of both investigative and narrative journalism.
About the Author
---
Steve Coll is the author of the Pulitzer Prize-winning Ghost Wars and the dean of the Graduate School of Journalism at Columbia University, and from 2007 to 2013 was president of the New America Foundation, a public policy institute in Washington, D.C. He is a staff writer for The New Yorker, and previously worked for twenty years at The Washington Post, where he received a Pulitzer Prize for explanatory journalism in 1990. He is the author of seven other books, including On the Grand Trunk Road, The Bin Ladens, Private Empire, and Directorate S.
Praise For…
---
"Coll's book is riveting." —Richard Cohen, NY Daily News

"[A] journalistic masterpiece . . . Coll succeeds on all levels . . . Coll is masterful at plumbing the depths of agencies and sects within both Afghanistan and Pakistan . . . In this era of fake news, Coll remains above it all, this time delivering an impeccably researched history of "diplomacy at the highest levels of government in Washington, Islamabad, and Kabul." —Kirkus (starred review)

"With his evenhanded approach, gift for limning character, and dazzling reporting skills, he has created an essential work of contemporary history." —Booklist (starred review)

"The most comprehensive work to date on the U.S. war in Afghanistan . . . Coll's vital work provides a factual and analytical foundation for all future work on the Afghan War and U.S. policy in Central Asia." —Publishers Weekly (starred review)

"Spellbinding . . . It does for America in Afghanistan what Michael Gordon and Tom Ricks did for the Iraq misadventure in Cobra II and Fiasco." —Evening Standard

"This sequel to Ghost Wars might well become the definitive account of the CIA and America's secret wars in Afghanistan and Pakistan . . . In the pages of Directorate S, the sequel to Coll's Pulitzer prize-winning Ghost Wars, the story is delivered with a literary prowess that has been absent in previous western accounts of America's longest running war. The dance of blame, with the US swaying at one moment towards Pakistan and the next towards Afghanistan, is a choreography familiar to CIA chiefs, US presidents and writers who have tackled the subject. Coll refuses to follow this tired tune, and the result is masterful." —The Guardian

"Steve Coll's Directorate S is the sequel to his magisterial Ghost Wars. Both books rest on a foundation of serious scholarship and Coll's extraordinary access, to individual CIA officers mostly, but also to many others. These notably included members of Pakistan's Inter-Services Intelligence (ISI) agency, where Directorate S was the name given to the branch of the agency "devoted to secret operations in support of the Taliban, Kashmiri guerrillas, and other violent Islamic radicals". Every assertion is carefully sourced and checked. This book is in the finest traditions of American investigative journalism. Coll is the thinking man's Michael Wolff." —Sherard Cowper-Coles, Times of London

"Coll draws on decades of experience in South Asia, nearly 600 interviews over a decade, and thousands of pages of documents to give the most balanced and comprehensive picture to date of the unraveling of U.S. policy in Afghanistan. Few writers can match Coll's length of time on the topic, range of contacts, or personal knowledge of realities on the ground . . . it is hard to imagine a more complete and thoughtful account of how the United States went wrong in Afghanistan." —Task & Purpose

"A spectacular account of 15 years of secret CIA and US military operations in Afghanistan and Pakistan by the investigative journalist and academic Steve Coll . . . With impressive access to American, Afghan and Pakistani intelligence, Coll reveals the extent of the surveillance undertaken by all sides . . . Directorate S has a cast of characters that make Bourne movies pale in comparison—from type-A CIA officers and paramilitaries to cigar-smoking and whisky-drinking Pakistani generals to a dog nicknamed 'Lucky' because he was able to detect incoming missile strikes from drones before they hit." —Financial Times