A Climate of Crisis: America in the Age of Environmentalism (Penguin History American Life) (Paperback)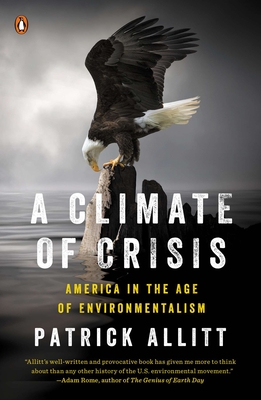 $18.00

Backordered at our distributor but we can check availability from the publisher.
Description
---
A provocative history of the environmental movement in America, showing how this rise to political and social prominence produced a culture of alarmism that has often distorted the facts

Few issues today excite more passion or alarm than the specter of climate change. In A Climate of Crisis, historian Patrick Allitt shows that our present climate of crisis is far from exceptional. Indeed, the environmental debates of the last half century are defined by exaggeration and fearmongering from all sides, often at the expense of the facts.

In a real sense, Allitt shows us, collective anxiety about widespread environmental danger began with the atomic bomb. As postwar suburbanization transformed the American landscape, more research and better tools for measurement began to reveal the consequences of economic success. A climate of anxiety became a climate of alarm, often at odds with reality. The sixties generation transformed environmentalism from a set of special interests into a mass movement. By the first Earth Day in 1970, journalists and politicians alike were urging major initiatives to remedy environmental harm. In fact, the work of the new Environmental Protection Agency and a series of clean air and water acts from a responsive Congress inaugurated a largely successful cleanup.

Political polarization around environmental questions after 1980 had consequences that we still feel today. Since then, the general polarization of American politics has mirrored that of environmental politics, as pro-environmentalists and their critics attribute to one another the worst possible motives. Environmentalists see their critics as greedy special interest groups that show no conscience as they plunder the earth while skeptics see their adversaries as enemies of economic growth whose plans stifle initiative under an avalanche of bureaucratic regulation.

There may be a germ of truth in both views, but more than a germ of falsehood too. America's worst environmental problems have proven to be manageable; the regulations and cleanups of the last sixty years have often worked, and science and technology have continued to improve industrial efficiency. Our present situation is serious, argues Allitt, but it is far from hopeless. Sweeping and provocative, A Climate of Crisis challenges our basic assumptions about the environment, no matter where we fall along the spectrum—reminding us that the answers to our most pressing questions are sometimes found in understanding the past.
About the Author
---
Patrick Allitt is the Cahoon Family Professor of American History at Emory University, where he has taught since 1988. He was an undergraduate at Oxford and a graduate student at the University of California, Berkeley, and held postdoctoral fellowships at Harvard Divinity School and Princeton University. The author of six books, he is also the presenter of eight lecture series with "The Great Courses," including "The Art of Teaching."
Praise For…
---
The Wall Street Journal:
"In recounting partisan battles, Mr. Allitt's objectivity is refreshing…His critique of the relentless crisis mentality will lead many environmentalists to dismiss the book as anti-environmental, while anti-environmentalists will object to his conclusion that much conservation has been achieved at little cost to ordinary Americans."

The Weekly Standard: 
"A book that deserves widespread readership and course adoption…The virtue of Allitt's history is a fresh approach to familiar themes and controversies, and from a perspective only occasionally brought to bear on the subject…He gets the larger story right…Allitt's wide-gauge historical approach is a valuable complement to the many scientific and policy critiques that have piled up over the years."

Martin V. Melosi, author of The Sanitary City and Precious Commodity:
"In this sweeping study, Patrick Allitt covers every conceivable major character and event in the modern 'age of environmentalism.' The book is grounded in intellectual history, and seeks to find balance in interpreting the role of environmental advocates and naysayers, in successes and failures of governmental regulation, in objectives and outcomes. The tone is definitely optimistic about the long view of meeting environmental challenges in the United States. At the same time, in linking past to present, Allitt offers caution about what might unfold in the days to come. Above all else, he touts the value of history in assessing America's complex environmental legacy."

Adam Rome, author of The Genius of Earth Day:
"I don't agree with everything in A Climate of Crisis, but Patrick Allitt's well-written and provocative book has given me more to think about than any other history of the U.S. environmental movement. A Climate of Crisis is both bracing and exciting."
Thank you for shopping local!