Pocket Atlas of Remote Islands: Fifty Islands I Have Not Visited and Never Will (Hardcover)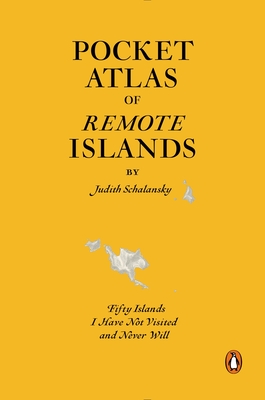 $30.00

Likely on our shelves now
Description
---
A lovely small-trim edition of the award-winning Atlas of Remote Islands

The Atlas of Remote Islands, Judith Schalansky's beautiful and deeply personal account of the islands that have held a place in her heart throughout her lifelong love of cartography, has captured the imaginations of readers everywhere. Using historic events and scientific reports as a springboard, she creates a story around each island: fantastical, inscrutable stories, mixtures of fact and imagination that produce worlds for the reader to explore.

Gorgeously illustrated and with new, vibrant colors for the Pocket edition, the atlas shows all fifty islands on the same scale, in order of the oceans they are found. Schalansky lures us to fifty remote destinations—from Tristan da Cunha to Clipperton Atoll, from Christmas Island to Easter Island—and proves that the most adventurous journeys still take place in the mind, with one finger pointing at a map.
About the Author
---
Judith Schalansky was born in 1980 in Greifswald near the Baltic Sea. She studied Art History and Communication Design and works and as a freelance writer, editor and book designer in Berlin. Her book Atlas of Remote Islands was the winner of the prize for the most beautiful German book of the year in 2009. In 2012 she won the same prize for her novel The Giraffe's Neck (Bloomsbury 2014). Her books have been translated into more than 20 languages. The asteroid 95247 Schalansky was named after her in 2011.
Praise For…
---
"(a) cartographical gem" -The Wall Street Journal - Great New (Armchair) Travel Reads

"This beautifully illustrated atlas reveals that cartography and the creative imagination have always intersected, spurred on by human wanderlust."-NPR's 2010 Favorites pick

"...absolutely magical." -Conde Nast Traveler- CNTraveler.com

"An utterly exquisite object: atlas as Wunderkammer and bestiary, bound in black cloth and sea-blue card...makes a magnificent case for the atlas to be recognised as literature, worthy of its original name - theatrum orbis terrarum, "the theatre of the world". -Robert Macfarlane, The Guardian (UK)

"'Paradise is an island. So is hell.' Or so says Judith Schalansky in the introduction to her charming, spooky and splendid Atlas of Remote Islands."-The New Yorker's Book Bench

"The first five times (or so) that I paged through the Atlas of Remote Islands: Fifty Islands I Have Never Set Foot On and Never Will, I fell deeply in love with the book... Each of author and artist Judith Schalansky's maps--hand-drawn in shades of gray, black, white, and brilliant orange on cadet blue paper--transported me to a, usually, remote island..." -NationalGeographic.com

"Last night I devoured the most beautiful book... It's wonderful: it's like Borges' eccentric encyclopedias. It is, in a word, great."-Caustic Cover Critic blog
Thank you for shopping local!