The Indispensable Composers: A Personal Guide (Paperback)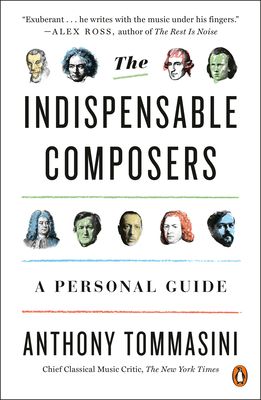 $20.00

Likely on our shelves now
Description
---
An exploration of the question of greatness from the chief classical music critic of The New York Times

Anthony Tommasini has devoted particular attention to living composers and overlooked repertory. But, as with all classical music lovers, the canon has remained central for him. Tommasini resists the neat laws of canon formation—and yet, he can't help but admit that these exalted composers have guided him through his life, resonating with his deepest emotions and profoundly shaping how he sees the world.
 
Now, in The Indispensable Composers, Tommasini offers his own personal guide to what the mercurial concept of greatness really means in classical music. As he argues for his particular pantheon of indispensable composers, Tommasini provides a masterclass in what to listen for and how to understand what music does to us.
About the Author
---
Anthony Tommasini is the chief classical music critic for the New York Times. He graduated from Yale University, and later earned a Doctorate of Musical Arts from Boston University. He is the author of three books, including a biography of the composer and critic Virgil Thomson. As a pianist, he made two recordings of Thomson's music on the Northeastern label which were supported by the National Endowment for the Arts.
Praise For…
---
"[Tommasini] defends the value of distinguishing the great from the merely good…Tommasini does a fine job of conveying the inner life of a piece, through his rhythmic sentences and sculpted paragraphs…One cannot help coming away from it with a more rounded understanding of classical music at its peak."—Phillip Lopate, New York Times Book Review

"Every case [Tommasini] makes is convincingly argued, and his style is accessible without being patronizing, enthusiastic but never gushily so. It's a superb read. Indispensable, even."—Jeremy Pound, BBC Music Magazine

"The story of four centuries of music in essays on seventeen composers, from Monteverdi to Stravinsky…all suffused with memoir and colored by a lifelong love of opera."—The New Yorker

"Through [Tommasini's] telling, these masters feel relatable—and their musical feats are made all the more impressive. Tommasini weaves an engrossing narrative, one that musicians and non-musicians alike will enjoy."—The New Criterion

"A pianist himself, Tommasini infuses his essays with insights from a lifetime of playing and listening." —San Francisco Chronicle
 
"A must for musicians and music lovers alike." —Pittsburgh Post-Gazette

 "Tommasini offers his wide personal experience, extensive knowledge, approachable teaching style, and great fondness for the material, along with his well-considered opinion, and takes us on a delightful journey…Tommasini enriches the basic stories of the composers' complex lives and the place of their works in the evolution of music with his memories and perspectives, makes clear why they were chosen for his pantheon, and engagingly captures the essence of music in words…Anyone interested in exploring the repertoire would find The Indispensable Composers a valuable, informative, and entertaining companion."—Thomas Bohlert, The East Hampton Star

"A spirited musical compendium to the best of the best…[Tommasini's] goal is to keep his assessments simple, insightful, and jargon-free, and he succeeds…Entertaining, highly enthusiastic, and very knowledgeable, he's the perfect guide [to the great composers]…all exuberantly presented for your edification and enjoyment." —Kirkus 

"This wonderful and indispensable book is written by an indispensable and fabulous music critic, Anthony Tommasini. This marvelous publication is both a great addition to the body of tributes to these magnificent composers and a perfect educational vehicle about the grandiose field of opera. It is a pleasure to add my voice to the others singing its praises"—Leontyne Price

"Insightful…Tommasini twines engaging biographical sketches of the maestros and their tragic ailments, love affairs, and endless scrambles for money with appreciations of masterpieces, the latter enriched by his memories of hearing and performing them…he excels at the difficult task of capturing music in words…The result is an engrossing study that will appeal to both classical music aficionados and novice listeners who want a road map."—Publishers Weekly
 
"A treasure trove of biographical information and a primer on the language and notation of music itself…Tommasini makes a potentially dry and academic subject accessible."—Library Journal

"Anthony Tommasini's book is itself indispensable—not only for those who already know how immortal are Monteverdi, Bach, Haydn down to Schoenberg, Stravinsky, and Bartók, but for those who want to read Tommasini's take on what makes our great composers lifelong companions we like to take wherever we go and would ask/want nothing more than to hear a few last notes from before leaving them forever."—André Aciman, author of Call Me by Your Name

"Anthony Tommasini is an engaging, authoritative guide to the careers and works of great composers.  Writing accessibly about even the more technical aspects of the music, he shares what these creations have meant to him in ways that should also make them essential listening for his readers."—Walter Frisch, H. Harold Gumm/Harry and Albert von Tilzer Professor of Music at Columbia University and author of Arlen and Harburg's Over the Rainbow

"Few critics in history have been as rigorously trained or deeply versed in music as Tony Tommasini. Page after page of this exuberant book show not only his comprehensive knowledge — he writes with the music under his fingers — but also his infectious love for the great classical repertory."  —Alex Ross, author of The Rest is Noise
Thank you for shopping local!