13 Things Mentally Strong People Don't Do Workbook: A Guide to Building Resilience, Embracing Change, and Practicing Self-Compassion (Paperback)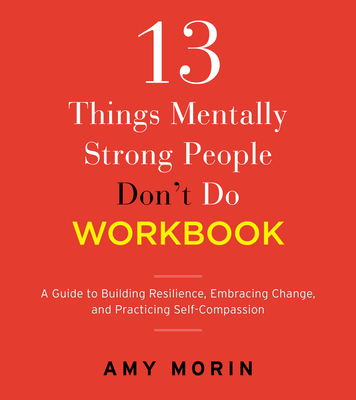 $19.99

Not in the store. We can order it and should have it in store in 3-5 business days.
Description
---
Expanding on her international bestseller 13 Things Mentally Strong People Don't Do, author and psychotherapist Amy Morin introduces the official companion workbook for readers seeking simple yet effective solutions for increasing mental strength and finding happiness and success in life.
Amy Morin was the first person to introduce the world to the concept of mental strength with her internationally bestselling book, 13 Things Mentally Strong People Don't Do. Since then, the conversation around mental health has dramatically evolved. Topics that were once taboo—anxiety, therapy, self-care—no longer carry stigma, and more and more people are looking for ways to become happier, healthier, and more resilient. But as Morin knows best, mental strength is a muscle—and to get stronger, you have to put in the work.
Amplifying the breakthrough advice from her bestselling books, Morin presents an interactive workbook for anyone looking to kick bad mental habits and fortify their mental muscle. A powerful and practical toolkit for building mental strength, this workbook deploys activities, prompts, science-based research, and stories to help readers become the best versions of themselves. Morin challenges readers to put the tried-and-true advice that has resonated with millions into real-life practice. Beyond identifying the 13 things that hold readers back—from indulging in self-pity, to agonizing over things beyond your control, to resenting the achievements of others—the workbook presents exercises that will teach readers how to create a custom mental strength-building plan. Morin positions easy-to-follow prompts and unique activities like:
Change the channel in your brain to stop ruminating
Calculate levels of fear to take more risks
Change your language into empowered mentality
Name your emotions to avoid discomfort
Asking readers to interact with their most common and crucial problems, this workbook acts as the ultimate guide for psychological toughness. Ultimately, with hard work, readers will learn how to train their brains to navigate adversity, break free of problematic patterns, and drastically improve their lives. 
About the Author
---
Amy Morin is a licensed clinical social worker, instructor at Northeastern University, and psychotherapist. She is the author of the international bestseller 13 Things Mentally Strong People Don't Do, as well as 13 Things Mentally Strong Parents Don't Do. Amy is a regular contributor to Verywell, CNBC, Forbes, Inc., and Psychology Today. She gave one of the most viewed TEDx talks of all time and was named the "self-help guru of the moment" by The Guardian. She lives in Marathon, Florida. 13 Things Mentally Strong Women Don't Do is her third book.
Praise For…
---
"Her book 13 Things Mentally Strong People Don't Do details exactly the sort of destructive thinking you should cut out of your life if you want to radically increase your resilience. If you're looking to kick some bad mental habits and toughen yourself up, it's a great source of ideas to get you started."   — Inc.
"Writing with intelligence and clarity, Morin presents concrete strategies to help readers shift from negativity to positivity. Her advice is crisp, precise and actionable."  — Success on 13 Things Mentally Strong People Don't Do 
"Great thoughts from Amy Morin, LCSW in her new book 13 Things Mentally Strong People Don't Do. I recommend it."  — John Maxwell, author of The 21 Irrefutable Laws of Leadership
"Each chapter delves further into the header and provides positive and forward-thinking tactics on how to fix your flaw in logic. This is a fantastic book for anyone seeking a reality check."  — Entrepreneur on 13 Things Mentally Strong People Don't Do 
"Morin's list of don'ts are applicable in every day life, not just during personal tragedy. Being aware of them can give an individual the power to withstand daily disappointments, setbacks and obstacles."  — Washington Post on 13 Things Mentally Strong People Don't Do