Varina Palladino's Jersey Italian Love Story: A Novel (Hardcover)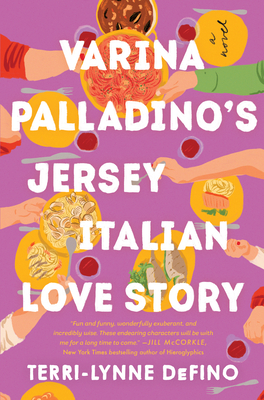 $27.99

Not in the store. We can order it and should have it in store in 3-5 business days.
Description
---
"Varina Palladino's Jersey Italian Love Story is fun and funny, wonderfully exuberant, and incredibly wise. These endearing characters—their voices and stories— will be with me for a long time to come. I didn't want to say good-bye." –Jill McCorkle, New York Times bestselling author of Hieroglyphics
An utterly delightful and surprising family drama—think Moonstruck and My Big Fat Greek Wedding set in New Jersey—about a boisterous, complicated Italian family determined to help their widowed mother find a new boyfriend. 
Lively widow Varina Palladino has lived in the same house in Wyldale, New Jersey, her entire life. The town might be slightly stuck in the 1960s, when small businesses thrived and most residents were Italian, but its population is getting younger and the Palladinos are embracing the change. What Varina's not embracing, much to her ninety-two-year-old mother's dismay, is dating. Running Palladino's Italian Specialties grocery, caring for her mother, and keeping her large, loud Jersey Italian family from killing one another takes up all of Varina's energy anyway.
Sylvia Spini worries about her daughter Varina being left all alone when she dies. Sylvia knows what it is to be old and alone, so when her granddaughter, Donatella, comes to her with an ill-conceived plan to find Varina a man, Sylvia dives in. The three men of the family—Dante, Tommy, and Paulie—are each secretly plotting their own big life changes, which will throw everyone for a loop.
Three generations of Palladinos butt heads and break one another's hearts as they wrestle with their own Jersey Italian love stories in this hilarious and life-affirming ode to love and family.
About the Author
---
Terri-Lynne DeFino was born and raised in New Jersey but escaped to the wilds of Connecticut where she still lives with her husband, and her cats. If you knock on her door, she'll invite you in and feed you. That's what Jersey Italian women do, because you can take the girl out of Jersey, but you can't take the Jersey out of the girl. She is the author of the novel The Bar Harbor Retirement Home for Famous Writers (and Their Muses) and the Bitterly Suite romance series published by Kensington Lyrical.
Praise For…
---
"Delightful and witty, Terri-Lynne DeFino weaves a poignant tale about tradition, love and family." — Stephanie Evanovich, New York Times bestselling author of Big Girl Panties
"This charming novel has it all; delivering heart, humor, unexpected romance and top-notch writing. It's easily comparable to one of the rom-com bestsellers of 2022, Emily Henry's delightful Book Lovers, as full of fun, surprises and a little heartache. If you are a fan of the films Moonstruck or My Big Fat Greek Wedding with their loud, loving, exuberant and relatable middle-class families, you are in for a real treat."  — BookTrib
"DeFino's zesty homage to the northern New Jersey microcosm delights with its universality and specificity." — Booklist (starred review)
"A bighearted story of a suburban Jersey Italian family...Readers will be glad to immerse themselves in the Palladinos' exuberant world." — Publishers Weekly
"There are a lot of laughs despite the mayhem and drama, and of course, many family dinners (with recipes!), but it is love that permeates and elevates this terrific Italian family saga." — Library Journal
"Varina Palladino's Jersey Italian Love Story is fun and funny, wonderfully exuberant, and incredibly wise. These endearing characters—their voices and stories— will be with me for a long time to come. I didn't want to say good-bye." — Jill McCorkle, New York Times bestselling author of Hieroglyphics