Things Past Telling: A Novel (Hardcover)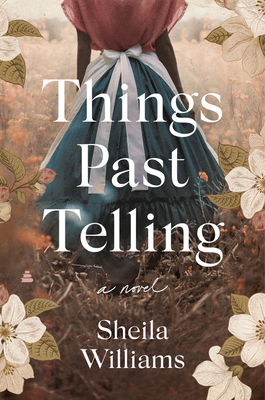 $25.99

Not in the store. We can order it and should have it in store in 3-5 business days.
Description
---
"This is a truly character-driven novel that explores how people define themselves, the creation of family and home, and the importance of memory and language. . . . Fans of historical epics won't be able to put this book down."—Historical Novel Society
"Emotionally satisfying. . . . A remarkable character portrait."—Publishers Weekly
The author of The Secret Women tells the story of a brave and enduring woman as indomitable as Ernest Gaines' legendary Miss Jane Pittman, in a breathtaking novel that combines the epic romance and adventure of Outlander, the sweeping drama of Roots, and the haunting historical power of Barracoon.
Things Past Telling is a remarkable historical epic that charts one unforgettable woman's journey across an ocean of years as vast as the Atlantic that will forever separate her from her homeland. 
Born in West Africa in the mid-eighteenth century, Maryam Prescilla Grace—a.k.a "Momma Grace" will live a long, wondrous life marked by hardship, oppression, opportunity, and love. Though she will be "gifted" various names, her birth name is known to her alone. Over the course of 100-plus years, she survives capture, enslavement by several property owners, the Atlantic crossing when she is only eleven years of age, and a brief stint as a pirate's ward, acting as both a spy and a translator. 
Maryam learns midwifery from a Caribbean-born wise woman, whose "craft" combines curated techniques and medicines from African, Indigenous, and European women. Those midwifery skills allow her to sometimes transcend the racial and class barriers of her enslavement, as she walks the razor's edge trying to balance the lives and health of her own people with the cruel economic mandates of the slave holders, who view infants born in bondage not as flesh-and-blood children but as investment property. 
Throughout her triumphant and tumultuous life Maryam gains and loses her homeland, her family, her culture, her husband, her lovers, and her children. Yet as the decades pass, this tenacious woman never loses her sense of self.  
Inspired by a 112-year-old woman the author discovered in an 1870 U.S. Federal census report for Ohio, loosely based on the author's real-life female ancestors, spanning more than a hundred years, from the mid-eighteen-century to the end of America's Civil War, and spanning across the globe, from what is now southern Nigeria to the islands of the Caribbean to North America and the land bordering the Ohio River, Things Past Telling is a breathtaking story of a past that lives on in all of us, and a life that encompasses the best—and worst—of our humanity.
About the Author
---
Sheila Williams is the author of Dancing on the Edge of the Roof, On the Right Side of a Dream, The Shade of My Own Tree, and Girls Most Likely. She is a contributor to the anthology A Letter for My Mother, selected and edited by Nina Foxx. She has been commissioned as the librettist for Fierce, an original opera composed by William Menefield for the Cincinnati Opera's 100th season in 2020. She lives in Northern Kentucky. 
Praise For…
---
"Ancient, blind Maryam Priscilla Grace is one of the tenacious survivors of the ugly practice of slavery. . . . Williams's lively plotting takes her heroine from the Caribbean lair of a group of Black pirates to the fields of Virginia's plantation country. Maryam will succeed in having a family, although not as she imagined it. Above all, she will break free of her chains, both 'the iron kind and the kind that wrapped themselves around your thoughts.' "
— New York Times Book Review
"Momma Grace's story is often a brutal one, but it's full of adventure and romance, courage and resilience. It's no apologia for slavery but a moving portrait of its fully human victims." — Kirkus Reviews
Emotionally satisfying...Williams offers vivid descriptions. A remarkable character portrait. — Publishers Weekly
Maryam's story is one of tenacity and resistance, through actions both everyday and extraordinary, and her struggle for survival is inspiring. Readers who enjoy Lalita Tademy will be drawn into this vividly imagined novel. — Booklist
"This is a truly character-driven novel that explores how people define themselves, the creation of family and home, and the importance of memory and language. . . . Fans of historical epics won't be able to put this book down."
— Historical Novel Society
"This is one of those novels that, once you're used to the storytelling, makes your surroundings melt away. Start it, and Things Past Telling will be a book well-read."
— Bookworm Sez
"This big-hearted, authentic portrayal of both friendship among middle-aged women and the mother-daughter bond will appeal to fans of Terry McMillan." — Booklist on The Secret Women
"The Secret Women is . . . a moving examination of the complexities of motherhood and the strength of female friendship." — Kirkus Reviews
Thank you for shopping local!