The Dressmakers of Auschwitz: The True Story of the Women Who Sewed to Survive (Paperback)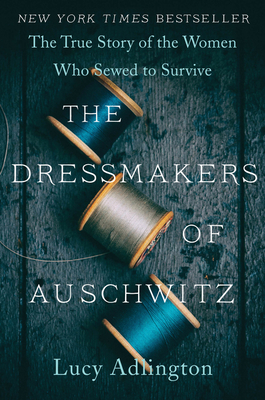 $17.99

Likely on our shelves now
Description
---
A powerful chronicle of the women who used their sewing skills to survive the Holocaust, stitching beautiful clothes at an extraordinary fashion workshop created within one of the most notorious WWII death camps. 

At the height of the Holocaust twenty-five young inmates of the infamous Auschwitz-Birkenau concentration camp—mainly Jewish women and girls—were selected to design, cut, and sew beautiful fashions for elite Nazi women in a dedicated salon. It was work that they hoped would spare them from the gas chambers. 
This fashion workshop—called the Upper Tailoring Studio—was established by Hedwig Höss, the camp commandant's wife, and patronized by the wives of SS guards and officers. Here, the dressmakers produced high-quality garments for SS social functions in Auschwitz, and for ladies from Nazi Berlin's upper crust. 
Drawing on diverse sources—including interviews with the last surviving seamstress—The Dressmakers of Auschwitz follows the fates of these brave women. Their bonds of family and friendship not only helped them endure persecution, but also to play their part in camp resistance. Weaving the dressmakers' remarkable experiences within the context of Nazi policies for plunder and exploitation, historian Lucy Adlington exposes the greed, cruelty, and hypocrisy of the Third Reich and offers a fresh look at a little-known chapter of World War II and the Holocaust.
About the Author
---
Lucy Adlington is a British novelist and clothes historian with more than twenty years' experience researching social history and writing fiction and nonfiction. She lives in Yorkshire, UK.
Praise For…
---
"Lucy Adlington tells of the horrors of the Nazi occupation and the concentration camps from a fascinating and original angle.  She introduces us to a little known aspect of the period, highlighting the role of clothes in the grimmest of societies imaginable and giving an insight into the women who stayed alive by stitching." — Alexandra Shulman, Former Editor in Chief of British Vogue
In The Dressmakers of Auschwitz, Lucy Adlington has unveiled not one but several long-hidden histories: the tale of a group of compassionate and audacious Jewish women who sewed for their lives; the story of clothes in the Holocaust; and the history of the fashion industry in World War II. Adlington has expertly interwoven these fascinating strands into an utterly absorbing, important and unique historical read." — Judy Batalion New York Times bestselling author of The Light of Days: The Untold Story of Women Resistance Fighters in Hitler's Ghettos
"A fresh, moving Auschwitz survival story involving a remarkable group of women." — Kirkus Reviews
Thank you for shopping local!