Harvest the Vote: How Democrats Can Win Again in Rural America (Paperback)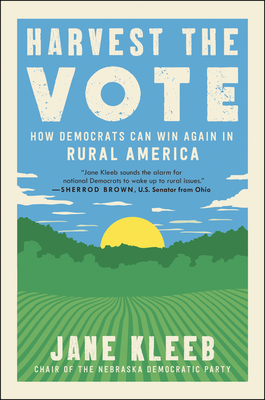 $16.99

Likely on our shelves now
Description
---
From Democratic Party rising star Jane Kleeb, an urgent and stirring road map showing how the Democratic Party can, and should, engage rural America

The Democratic Party has lost an entire generation of rural voters. By focusing the majority of their message and resources on urban and coastal voters, Democrats have sacrificed entire regions of the country where there is more common ground and shared values than what appears on the surface.
In Harvest the Vote, Jane Kleeb, chair of Nebraska's Democratic Party and founder of Bold Nebraska, brings us a lively and sweeping argument for why the Democrats shouldn't turn away from rural America. As a party leader and longtime activist, Kleeb speaks from experience. She's been fighting the national party for more resources and building a grassroots movement to flex the power of a voting bloc that has long been ignored and forgotten.
Kleeb persuasively argues that the hottest issues of the day can be solved hand in hand with rural people. On climate change, Kleeb shows that the vast spaces of rural America can be used to enact clean energy innovations. And issues of eminent domain and corporate overreach will galvanize unlikely alliances of family farmers, ranchers, small business owners, progressives, and tribal leaders, much as they did when she helped fight the Keystone XL pipeline. The hot-button issues of guns and abortion that the Republican Party uses to wedge voters against one another can be bridged by putting a megaphone next to issues critical to rural communities.
Written with a fiery voice and commonsense solutions, Harvest the Vote is both a call to action and a much-needed balm for a highly divided nation.
About the Author
---
Jane Kleeb is an experienced grassroots organizer, manager, political strategist and nonprofit entrepreneur. Recently profiled by PBS in a film called "Blue Wind on a Red Prairie," Jane is currently the Chair of the Nebraska Democratic Party and founder of the grassroots group Bold Nebraska.

Praise For…
---
[Kleeb's] overarching message often transcends political party. . . The book contains twin delights: Kleeb's sensible approaches to bridge building and a pleasing, conversational writing style. — Kirkus Reviews
"Jane Kleeb sounds the alarm for national Democrats to wake up to rural issues: start with 'the Farmers' Bill of Rights,' pay attention to rural health care, especially mental health services, as Republican policies have closed rural hospitals. 'Show up with ears open and mouths closed.'  That's the way to win and that's the way to govern." — Sherrod Brown, U.S. Senator from Ohio

"Deeply personal and persuasive, Harvest the Vote shows progressives that we don't have to sacrifice our values to expand our coalition. Jane proves that rural issues aren't any different from the issues confronting people all over the country, and require a national effort that includes Americans from every region and walk of life."  — Jon Favreau, co-host Pod Save America
Only Jane Kleeb could have written something so passionate, clear-eyed, and persuasive. The solutions are exactly what we must do to put the needs of all working families first as we reform the Democratic Party. As progressives, we need to show up and stand with them. — Nina Turner, former state senator from Ohio, and co-founder of Our Revolution
"There is no finer rural political leader in America than Jane Kleeb, and this cogent and comprehensive volume distills the wisdom she's won in one hard battle after another. I've spent most of my life living in rural America, often in very 'red' parts, and I share her sense that these can be sources of real power for a progressive realignment, if only we get to work!" — Bill McKibben, author of Deep Economy and The End of Nature
"Jane Kleeb knows Democrats have solutions that will help families no matter where they live. What I learned through organizing in Indian Country is that one-on-one conversations matter, and people in underrepresented communities need to know that our democracy includes them." — Deb Haaland, U.S. Congresswoman from New Mexico
Thank you for shopping local!