Blood Will Tell: A Novel (Hardcover)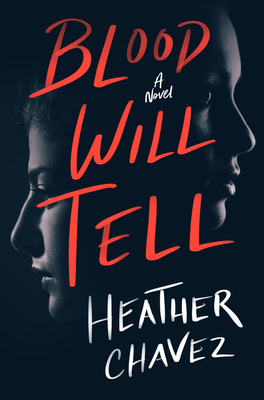 $27.99

Not in the store. We can order it and should have it in store in 3-5 business days.
Description
---
"Blood Will Tell is a fierce novel of suspense, secrets, and family drama. Chavez brilliantly intertwines story and tension into a captivating novel." — Samantha Downing, internationally bestselling author of My Lovely Wife and For Your Own Good
From the author of the acclaimed debut No Bad Deed, a twisty novel about the bond between two sisters—and the crimes one covers up to protect the other. For fans of Lisa Gardner and Harlan Coben.
Schoolteacher and single mom Frankie Barrera has always been fiercely protective of her younger sister Izzy—whether Izzy wants her to be or not. But over the years, Izzy's risky choices have tested Frankie's loyalty. Never so much as on a night five years ago, when a frantic phone call led Frankie to the scene of a car accident—and a drunk and disoriented Izzy who couldn't remember a thing.
Though six friends partied on the outskirts of town that night, one girl was never seen again . . . 
Now, an AMBER alert puts Frankie in the sights of the local police. Her truck has been described as the one used in the abduction of a girl from a neighboring town. And the only other person with access to Frankie's truck is Izzy.
This time around, Frankie will have to decide what lengths she's willing to go to in order to protect Izzy—what lies she's willing to tell, and what secrets she's willing to keep—because the dangerous game that six friends once played on a warm summer night isn't over yet . . .
About the Author
---
A graduate of UC Berkeley's English literature program, Heather Chavez has worked as a newspaper reporter and editor. She lives in Santa Rosa, California, with her husband and children. No Bad Deed is her first book.
Praise For…
---
"Do you know how far you'd go to protect someone you love? How about if you suspect they've committed the ultimate crime? That's one of the questions Heather Chavez examines in Blood Will Tell, her latest pulse-pounding thriller. I highly recommend you clear your schedule and buckle up for this one heck of a suspenseful ride." — Hannah Mary McKinnon, internationally bestselling author of You Will Remember Me
"Original, intricate, and very clever, Blood Will Tell is a captivating thriller about the powerful bonds of family. Heather Chavez expertly weaves past and present, unfolding the mystery clue by clue, with an adrenaline-fused, terrifying race to the shocking end. The gorgeous writing, fantastic pacing, and two extremely compelling protagonists will keep you glued to every page." — Samantha M. Bailey, USA TODAY and #1 bestselling author of Woman on the Edge
"Blood Will Tell is a fierce novel of suspense, secrets, and family drama. Chavez brilliantly intertwines story and tension into a captivating novel. One of those books where you just have to know what happens next." — Samantha Downing, internationally bestselling author of My Lovely Wife and For Your Own Good
"The author paints a moving portrait of sisters stumbling toward an adult relationship, perpetually driving one another crazy, but also loving each other deeply. Psychological thriller fans will find much to enjoy." — Publishers Weekly
"Blood Will Tell is not just a gripping story with layers upon layers of mysteries, nor is it simply a page-turner you'll stay up too late to read. It is all these things, but so much more, as well—namely, a propulsive and powerful thriller that questions how much we owe the people we love, and what lines we'll cross when it comes to protecting them." — Megan Collins, author of The Family Plot 
"A solid thriller that has two narratives, today and five years ago and we learn slowly the details of that night five years ago, with twists and turns right up to the end, to keep the reader engaged." — Red Carpet Crash
"Blood Will Tell is an unforgettable mystery suspense story about the bond between two sisters." — Novel Suspects
"Chavez embarks on a paranoia-fueled thrill ride, escalating the stakes while exploiting readers' darkest domestic fears." — Kirkus Reviews
"[A] propulsive debut… Chavez peoples her tale with credible, flawed individuals, presenting even the multiple antagonists with harrowing backstories and convincing psychological motives… Chavez is in full command of plot and pacing... Domestic thriller fans will be well satisfied." — Publishers Weekly
"In a mesmerizing first-person narrative, [Cassie's] fear is palpable, then vanquished by an astonishing ferocity she finds within herself. Where does that come from? Wait until you find out. This one glows in the dark." — Booklist (starred review)
"The brisk plot of No Bad Deed moves with realistic twists as Cassie proves to be a credible sleuth, intent on saving her family… Chavez has a knack for characters… [and] fills her novel with flawed, authentic people." — San Diego Union-Tribune
"Twisty, timely and absolutely terrifying, Heather Chavez' No Bad Deed is a propulsive thriller that grabbed me from the very first page and didn't let go. A terrifically suspenseful read." — Alison Gaylin, Edgar-winning author of Never Look Back
"The kind of twisty, jet-fueled thriller that explodes on page one and has you happily abandoning work, sleep, and life as you race to the stunning end. Don't miss it!" — Lisa Gardner
"A sensational debut - compelling, hypnotic, full of suspense and quiet menace.  Don't miss it!" — Lee Child
"A treacherous game of cat and mouse and a frantic race against time until the final explosive twist. Chavez has crafted the perfect thriller." — Liv Constantine, author of The Last Time I Saw You and The Last Mrs. Parrish
"Chavez's breathless page-turner will have every aspiring Good Samaritan thinking maybe they should let the NEXT guy help." — Linwood Barclay, author of The Noise Downstairs and No Time for Goodbye
"Heather Chavez's debut novel starts at a sprint and never lets up, twisting its way to an exhilarating, you'll-never-guess-it ending." — Peter Swanson, author of Before She Knew Him
"Chavez's powerfully addictive debut proves nearly impossible to set aside as it describes how one selfless act can breed chaos." — Fredericksburg Free Lance-Star
"I did not expect the story to take the turns that it did… Definitely a page-turner that would have any lover of suspense and thrillers going mad by the end of the story. A fabulously written story with a juicy plot and some intimidating characters." — Tulsa Book Review
"Her scrappy female heroine and the breakneck speed in which Chavez unfolds her story make No Bad Deed an exceptional read." — Shelf Awareness
"I'm not easily surprised nor do I have a hard time predicting the twists most thrillers pull out… The plot is so very cleverly created so the reader really never has a clue until piece by piece the puzzle is put together…  A rare treat." — Deerfield Valley News
"This book is truly difficult to put down… If you enjoy books that keep you on edge… then No Bad Deed is perfect for you. There are twists, followed by more twists, and plenty of excitement and mystery." — BookReporter.com
"Chavez is off to a good start with this twisty thriller… With her finely drawn characters—impetuous Cassie with her flaws, good-hearted Sam whom everyone loves, and her really villainous bad guys—and a satisfying ending, No Bad Deed is a worthy read." — Mystery Scene
"[A] fast-paced, menacing story… The paranoia is contagious, and Chavez will definitely have you looking over your shoulder. The book, however, is fantastic, with unique characters and nerve-wracking tension!" — TheNerdDaily.com
 "No Bad Deed has as many twists and turns as the winding roads of Sonoma County. For fans of authors like Liv Constantine or Lisa Gardner, this fast-paced book will give you surprises galore against a beautiful backdrop." — CrimeReads.com
"An exciting exploration of what might happen when a person's ordinary life is suddenly thrown into chaos, and knowing whom or what to trust is no longer possible… A delightfully Harlan Coben-esque tale of the ways in which the past can influence the present, for better or much, much worse."
— BookPage
Thank you for shopping local!