The Killer Across the Table: Unlocking the Secrets of Serial Killers and Predators with the FBI's Original Mindhunter (Paperback)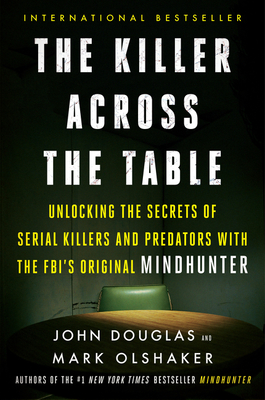 $17.99

Not in the store. We can order it and should have it in store in 3-5 business days.
Description
---
The legendary FBI criminal profiler, number-one New York Times bestselling author, and inspiration for the hit Netflix show Mindhunter delves deep into the lives and crimes of four of the most disturbing and complex predatory killers, offering never-before-revealed details about his profiling process, and divulging the strategies used to crack some of America's most challenging cases.

The FBI's pioneer of criminal profiling, former special agent John Douglas, has studied and interviewed many of America's most notorious killers—including  Charles Manson, "Son of Sam Killer" David Berkowitz and "BTK Strangler" Dennis Rader—trained FBI agents and investigators around and the world, and helped educate the country about these deadly predators and how they operate, and has become a legend in popular culture, fictionalized in The Silence of the Lambs and the hit television shows Criminal Minds and Mindhunter.
Twenty years after his famous memoir, the man who literally wrote the book on FBI criminal profiling opens his case files once again. In this riveting work of true crime, he spotlights four of the most diabolical criminals he's confronted, interviewed and learned from. Going deep into each man's life and crimes, he outlines the factors that led them to murder and how he used his interrogation skills to expose their means, motives, and true evil. Like the hit Netflix show, The Killer Across the Table is centered around Douglas' unique interrogation and profiling process. With his longtime collaborator Mark Olshaker, Douglas recounts the chilling encounters with these four killers as he experienced them—revealing for the first time his profile methods in detail. 
Going step by step through his interviews, Douglas explains how he connects each killer's crimes to the specific conversation, and contrasts these encounters with those of other deadly criminals to show what he learns from each one. In the process, he returns to other famous cases, killers and interviews that have shaped his career, describing how the knowledge he gained from those exchanges helped prepare him for these.
A glimpse into the mind of a man who has pierced the heart of human darkness, The Killer Across the Table unlocks the ultimate mystery of depravity and the techniques and approaches that have countered evil in the name of justice.
About the Author
---
John Douglas, the legendary FBI criminal profiler and veteran author of true crime books, has spent over twenty-five years researching and culling the stories of America's most disturbing criminals. A veteran of the United States Air Force, he has directly worked and/or had overall supervision in over 5,000 violent crime cases over the past 48 years. He is currently chairman of the board of the "Cold Case Foundation." One of the foremost experts and investigators of criminal minds and motivations, he currently lives in the Washington, D.C. area.
Mark Olshaker is an Emmy Award-winning documentary filmmaker and author of ten nonfiction books and five novels, including Einstein's Brain and The Edge. His books with former FBI Special Agent and criminal profiling pioneer John Douglas, beginning with Mindhunter and, most recently, Law & Disorder, have sold millions of copies and have been translated into many languages. Mindhunter is now a dramatic series on Netflix, directed by David Fincher. He and his wife Carolyn, an attorney, live in Washington, D.C.
Praise For…
---
"An eye-opening and chilling look into the minds of brutal murderers…Douglas succeeds in taking readers inside his own mind as he worked to understand 'four killers [he] confronted'…separating fact from fiction, Douglas adds to lay readers' understanding of human evil." — - Publishers Weekly
"This fascinating and haunting expert account helps us understand why the most shocking homicides occur... [this] will be of particularly urgent interest." — - Booklist starred review
"[A] must read for everyone wanting to understand the minds of depraved serial killers. Once again John Douglas walks into rooms most of us would shun in our worst nightmares and comes back with remarkable insight into what type of person perpetrates such horrible acts." — New York Journal of Books on The Killer Across the Table