Blood, Sweat, and Pixels: The Triumphant, Turbulent Stories Behind How Video Games Are Made (Paperback)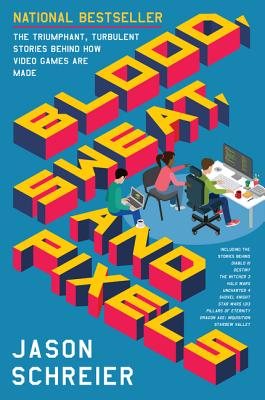 $17.99

Not in the store. We can order it and should have it in store in 3-5 business days.
Description
---
NATIONAL BESTSELLER
"The stories in this book make for a fascinating and remarkably complete pantheon of just about every common despair and every joy related to game development." — Rami Ismail, cofounder of Vlambeer and developer of Nuclear Throne
Developing video games—hero's journey or fool's errand? The creative and technical logistics that go into building today's hottest games can be more harrowing and complex than the games themselves, often seeming like an endless maze or a bottomless abyss. In Blood, Sweat, and Pixels, Jason Schreier takes readers on a fascinating odyssey behind the scenes of video game development, where the creator may be a team of 600 overworked underdogs or a solitary geek genius. Exploring the artistic challenges, technical impossibilities, marketplace demands, and Donkey Kong-sized monkey wrenches thrown into the works by corporate, Blood, Sweat, and Pixels reveals how bringing any game to completion is more than Sisyphean—it's nothing short of miraculous.
Taking some of the most popular, bestselling recent games, Schreier immerses readers in the hellfire of the development process, whether it's RPG studio Bioware's challenge to beat an impossible schedule and overcome countless technical nightmares to build Dragon Age: Inquisition; indie developer Eric Barone's single-handed efforts to grow country-life RPG Stardew Valley from one man's vision into a multi-million-dollar franchise; or Bungie spinning out from their corporate overlords at Microsoft to create Destiny, a brand new universe that they hoped would become as iconic as Star Wars and Lord of the Rings—even as it nearly ripped their studio apart.
Documenting the round-the-clock crunches, buggy-eyed burnout, and last-minute saves, Blood, Sweat, and Pixels is a journey through development hell—and ultimately a tribute to the dedicated diehards and unsung heroes who scale mountains of obstacles in their quests to create the best games imaginable.
About the Author
---
Jason Schreier is the news editor at Kotaku, a leading website covering the industry and culture of video games. He has also covered the video game world for Wired, and has contributed to a wide range of outlets including The New York Times, Edge, Paste, Kill Screen, and The Onion News Network. Blood, Sweat, and Pixels is his first book.
Praise For…
---
"Necessary to read… by the end, my only complaint about Blood, Sweat, and Pixels is that there wasn't more to read." — Forbes.com
"Making video games is one of most transformative, exciting things I've done in my two decades as a freelance writer. Making video games is also an excruciating journey into Hellmouth itself. Jason Schreier's wonderful book captures both the excitement and the hell. Here, at long last, is a gripping, intelligent glimpse behind a thick (and needlessly secretive) creative curtain." — Tom Bissell, author of Extra Lives and Apostle, and writer on the Gears of War, Uncharted, and Battlefield franchises
"A meticulously researched, well-written, and painful at times account of many developers' and studios' highs and lows. May need to make it required reading for the developers at my studio." — Cliff Bleszinski, creator of Gears of War and founder of Boss Key Productions
"The stories in this book make for a fascinating and remarkably complete pantheon of just about every common despair and every joy related to game development." — Rami Ismail, cofounder of Vlambeer and developer of Nuclear Throne
"Jason Schreier brilliantly exposes the truth about how video games are made. Brutal, honest, yet ultimately uplifting; I've been gaming for thirty years, yet I was surprised by every page. Turns out what I didn't know about my favorite hobby could fill a book. This book! Can't recommend it enough to any serious fan of this generation's greatest new art form." — Adam Conover, executive producer and host of truTV's Adam Ruins Everything
"...his enthusiasm is contagious; even if you've never played one of these games, you'll be riveted by the account of how they came to be." — Booklist
"Schreier covers the notoriously secretive gaming industry… and he knows it well… He also clearly respects [the] developers and their achievements, and treats their rueful tales of selfless struggle with an admiring deference…a useful survey of the landscape of game production at this cultural moment." — GQ
"Schreier sets each scene with admirable prowess, giving the reader just enough information to feel the weight of each story. For anyone who has ever wondered how some of the most successful games are made, this book is a real eye-opener… At its heart, Blood, Sweat, and Pixels is an ode to the people who put every fiber of their being into making memorable experiences for gamers all over the world." — Fiction Southeast
"Lively writing… For fans of video games, Blood, Sweat, and Pixels is a must read, but anyone interested in stories about the hard process of making art is also sure to enjoy it." — Shelf Awareness
"One of the most insightful pieces of text I've ever read… It's a well-written tale of real sacrifice, struggles, and more, it's almost inspiring despite how sad it can be at times." — GameZone
"Blood, Sweat, and Pixels is the instruction manual to the game industry I never realized I needed." — GameCritics.com
"Schreier creates a compellingly warts-and-all portrait of a profession that so many who grew up playing games idolized." — Wired
Thank you for shopping local!