Salt Smoke Time: Homesteading and Heritage Techniques for the Modern Kitchen (Hardcover)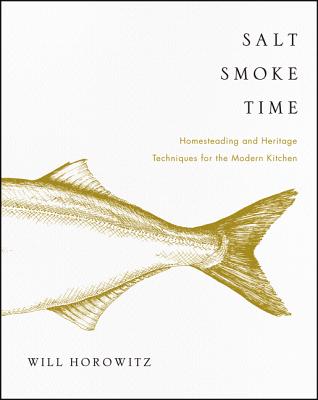 $35.00

Not in the store. We can order it and should have it in store in 3-5 business days.
Description
---
"The man best known for creating the smoked watermelon 'ham' has distilled all of his knowledge of foraging, preserving, smoking, salting, and more into… a perfect gift for anyone you know who's looking to get back to the land." – Grubstreet
A celebrated young chef hailed by the New York Times as a "fearless explorer," brings time-tested heritage techniques to the modern home kitchen.
Executive chef and owner of New York City's highly acclaimed Ducks Eatery and Harry & Ida's, Will Horowitz is also an avid forager, fisherman, and naturalist. In Salt Smoke Time, he explores ideas of self-reliance, sustainability, and seasonality, illuminating our connection to the natural world and the importance of preserving American stories and food traditions.
Drawing from the recipes and methods handed down by our ancestors, Horowitz teaches today's home cooks a variety of invaluable techniques, including curing & brining, cold smoking, canning, pickling, and dehydration. He provides an in-depth understanding of milk products, fishing, trapping seafood, hunting, butchering meat, cooking whole animals, foraging, and harvesting, and even offers tips on wild medicine.
Horowitz takes traditional foods that have been enjoyed for generations and turns them into fresh new dishes. With Salt Smoke Time, you'll learn how to make his signature Jerky and a host of other sensational recipes, including Smoked Tomato and Black Cardamom Jam, Fermented Corn on the Cob with Duck Liver Butter, North Fork Clam Bake, Preserved Duck Breast & Mussels with Blood Orange, and Will's Smoked Beef Brisket.
Complete with step-by-step line drawings inspired by vintage Boy Scout and Field Guides and illustrated with beautiful rustic photos, Salt Smoke Time is both a nostalgic study of our roots, and a handy guide for rediscovering self-reliance and independence in our contemporary lives.
About the Author
---
WILL HOROWITZ is the executive chef and owner of Ducks Eatery and Harry & Ida's Meat and Supply Co. in New York City. He has become a pioneer in smoked, pickled, and preserved foods, with a focus on developing more sustainable food systems through the study of food history and nature. He works closely with chefs around the world, leading the way in culinary innovation for sustainably farming seaweeds and reducing food waste. His New York culinary heritage has deep roots beginning with his grandparents: a classically trained chef and fisherman of Long Island's North Fork on one side, owners of a traditional Jewish delicatessen in Harlem on the other side. Will attended Naropa University in Boulder, Colorado, for Tibetan Buddhism and eco-sustainability, studying wilderness survival under Richard Dart, herbalism under Brigitte Mars, and Tibetan Buddhism under Reginald "Reggie" Ray. He began pursuing his professional cooking career at the Culinary School of the Rockies and Johnson & Wales University in 2004. In 2012, Will and his sister, Julie Horowitz, opened Ducks Eatery. In 2015, they opened a vintage-inspired delicatessen and provisions shop called Harry & Ida's Meat and Supply Co. A big believer of using the local terroir as inspiration, he is an avid forager, fisherman, and naturalist. He lives in New York City.
Praise For…
---
"In the culinary world of the moment, technological prowess is yielding to more ancient and more time- tested techniques…Horowitz celebrates such rediscoveries with this very informative guide to foraging…For those ready to learn new foodways from their forebears, Horowitz presents intriguing and detailed instructions and correlative recipes." — Booklist
"Reading these homesteading, foraging, fishing, and hunting tips and game recipes feels like taking a mountain vacation. Recipes to savor include pickled chanterelle mushrooms and a hunter's sausage spiked with ground juniper berries." — Garden & Gun [March 2019 Reading List]
"In this new cookbook, [Will Horowitz] pulls from the experiences of his childhood in upstate New York and offers a guide to foraging and approaching the kitchen as a naturalist in the contemporary world. The techniques in the book…aim to connect readers to a survivalist cooking tradition." — Epicurious [40 New Cookbooks to Buy This Spring]
"The man best known for creating the smoked watermelon 'ham' has distilled all of his knowledge of foraging, preserving, smoking, salting, and more into this 320-page tome…Gorgeous photography and painstakingly detailed illustrations make this a perfect gift for anyone you know who's looking to get back to the land." — Grubstreet