Twelve Recipes (Hardcover)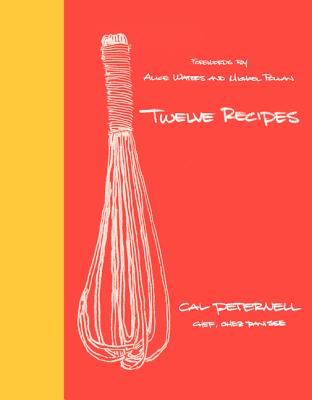 List Price: $29.99
Our Price: $27.99
(Save: $2.00 7%)
Should be on our shelves now -- but wait for confirmation from us before coming to pick up. We'll respond to your order shortly.
Description
---
Winner of the 2015 International Association of Culinary Professionals (IACP) Cookbook Award
Forewords by Alice Waters and Michael Pollan
In this dazzling, full color cookbook and kitchen manual filled with lush photographs and beautiful drawings, the chef of Alice Waters' Chez Panisse offers basic techniques and essential recipes that will transform anyone into a confident home cook.
When his oldest son was leaving for college, Cal Peternell, the chef of San Francisco's legendary Chez Panisse, realized that, although he regularly made dinners for his family, he'd never taught them the basics of cooking. Based on the life-altering course of instruction he prepared and honed through many phone calls with his son, Twelve Recipes is the ultimate introduction to the kitchen. Peternell focuses on the core foods and dishes that comprise a successful home cook's arsenal, each building skill upon skill—from toast, eggs, and beans, to vinaigrettes, pasta with tomato, and rice, to vegetables, soup, meats, and cake.
Twelve Recipes will help home cooks develop a core repertoire of skills and increase their culinary confidence. Peternell tells you what basic ingredients and tools you need for a particular recipe, and then adds variations to expand your understanding. Each tip, instruction, and recipe connects with others to weave into a larger story that illuminates the connection between food and life. A deeply personal book, it was written by the chef alone and it glows with warmth and humor as he mulls over such mundane items as toast and rice to offer surprising new insights about foods that only seem exceedingly ordinary. It's a book you're as likely to keep by your bedside as your stovetop. With Peternell as your guide, the journey is pure pleasure and the destination is delicious.
Twelve Recipes features gorgeous color photos and inset illustrations by Peternell's wife and sons (all artists), and forewords by celebrated chef Alice Waters and New York Times columnist and bestselling author Michael Pollan.
About the Author
---
Cal Peternell is the author of Almonds, Anchovies, and Pancetta, A Recipe for Cooking, and the New York Times bestseller and IACP Award–winning Twelve Recipes. He grew up on a small farm in New Jersey and earned a BFA in painting from the School of Visual Arts in New York City, then was inspired to pursue a cooking career while living in Italy with his wife, the artist Kathleen Henderson. After working at various acclaimed restaurants in Boston and San Francisco, he began a nearly twenty-two-year stint as the chef at Chez Panisse, first in the café and then the downstairs restaurant. Cal's culinary-education podcast, Cooking by Ear, launched in 2018. Cal and Kathleen have three sons and live in the Bay Area. 

Praise For…
---
New York Times Bestseller — New York Times
IACP Cookbook Award Winner — IACP
"The best beginner's cookbook of the year, if not the decade. In addition to being warm, funny and smart, Twelve Recipes will actually teach you to cook… [Peternell] can nudge anyone, from novice to expert, to want to be a better cook… His wit and intelligence are apparent throughout." — New York Times Book Review
San Francisco Chronicle Bestseller — San Francisco Chronicle
"Twelve Recipes" is the first book I recommend to people who tell me "I can't cook." If you've shopped for a stay-at-home order, you'll find plenty of recipes for what you have on hand. — New York Times
"Delightful and instructive. . . . Marked by Peternell's zeal for good, simple food, this title takes a very different approach from cooking handbooks that emphasize science or technical precision." — Library Journal (starred review)
"[A] smart new cookbook…written for new cooks, for uncertain cooks, for good cooks looking for simple inspiration, for anyone wrestling with a New Year's resolution to cook more and better…The recipes are narratives, written conversationally, like excellent emails from a friend explaining how to make béchamel." — Sam Sifton, New York Times
A Best Food Book of 2014… "Encouraging and discursive… Peternell [teaches] the oldest of his three sons how to cook… a skill he realized he'd neglected to pass along while he was growing up, even if Alice Waters in her foreword calls Peternell 'one of the greatest teachers I know." — The Atlantic
"Warm, funny, and full of cool recipes. [Cal Peternell's] decades of working at Chez Panisse are molded into solid, grounded advice for cooks who are just starting out." — Refinery29.com
"Chef Peternell offers an informal crash course in the "big 12" recipes "at the heart of home cooking"… Essays have an inviting personal tone, and Peternell encourages cooks to use good sense, relax, and enjoy the unexpected pleasures that come with cooking for yourself and for others." — Publishers Weekly
"This book is very much a representation of the chef's home cooking-nothing fancy, but all prepared properly…The tips and tricks he shares throughout might be game-changers…This is a fun read." — Yahoo! Food
"Many consider chefs culinary artists, but Peternell, of Berkeley's Chez Panisse, actually has a degree in painting. Art runs in the family: His wife and sons added whimsical illustrations to this already beautiful book." — Entertainment Weekly
"His tone is casual and conversational, and makes you feel you have a friend in the kitchen with you, cheering you on… If you feel you could use help with the basics… this is the book for you. More seasoned cooks… there's plenty here of interest for us, too." — SF Weekly
"Practical and very funny. . . . I could not put this book down." — Huffington Post
"I love this book above all for the felicity of Cal Peternell's writing. It puts me right there, with no sense of artifice or forcedness. It's simply him, and his family, and his food, and it all seems so comfortable and real and immediate. It's a splendid achievement." — Thomas McNamee, James Beard Award-winning author of Alice Waters and Chez Panisse
"An extraordinary cookbook… Funny, warmly embracing, beautifully written and sweet, not what I expected from a well-known chef… Every recipe I tried was a home run… [It] will be my new gift to any high school graduate, newlywed or new cook." — Florida Times-Union
"Grabs the most intimate culinary moments -- parent and child cooking together… Originally planning that the collection of recipes would be like a private, family love letter, Peternell discovered a glorious connection to his childhood and an impulse to share on a broader scale." — San Jose Mercury News
"One of the best books of the year… [Twelve Recipes] is a culinary manual written for beginners, but full of useful chef wisdom that an experienced cook will appreciate, all written in a very conversational tone that makes this book such a pleasure to read." — Minneapolis Star Tribune
"A poignantly penned kitchen manual designed to provide even the most insecure of cooks with the framework to master everyday cooking." — FirstWeFeast.com
"Conversational and fun. . . . His recipes . . . function like basic building blocks. A good chef can improvise with any cookbook, but this book inspires improvisation from the get-go." — Berkeleyside.com
"Twelve Recipes offers an expert's take on the essentials of cooking… a book that celebrates the kitchen as the heart of the home, be it a college-student apartment or a house full of family." — The Register-Guard
"It's the book I reach for every time I want inspiration. It's written in such a warm tone, it makes me feel like the chef is in my kitchen…This book is for anyone who says they 'can't cook,' but there's also plenty for those who know they can." — Food & Wine (A Classic Cookbook—[one of] our favorite (and most giftable) books of all time)
"Peternell's warmth comes through with each whimsical illustration, family photo and humorous meditation on everyday foods. . . . It is a delicious love letter from a father to his sons that imparts some basic cooking and life lessons along the way."
— Huffington Post