Teaching a Stone to Talk: Expeditions and Encounters (Paperback)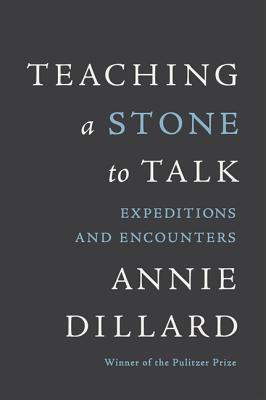 $15.99

Should be on our shelves now -- but wait for confirmation from us before coming to pick up. We'll respond to your order shortly.
Description
---
"A collection of meditations like polished stones — painstakingly worded, tough-minded, yet partial to mystery, and peerless when it comes to injecting larger resonances into the natural world." — Kirkus Reviews
Here, in this compelling assembly of writings, Pulitzer Prize-winning author Annie Dillard explores the world of natural facts and human meanings.
Veering away from the long, meditative studies of Pilgrim at Tinker Creek or Holy the Firm, Annie Dillard explores and celebrates moments of spirituality, dipping into descriptions of encounters with flora and fauna, stars, and more, from Ecuador to Miami. There is no writer quite like Dillard when it comes to the mysteries and wonder of the natural world.
About the Author
---
Annie Dillard is the Pulitzer Prize-winning author of Pilgrim at Tinker Creek, An American Childhood, The Writing Life, The Living and The Maytrees. She is a member of the Academy of Arts and Letters and has received fellowship grants from the John Simon Guggenheim Foundation and the National Endowment for the Arts.
Praise For…
---
"Teaching a Stone to Talk is superb. As with the flying fish, Annie Dillard doesn't do it often, but when she does she silver-streaks out of the blue and archingly transcends all other writers of our day in all the simple, intimate, and beautiful ways of the natural master." — R. Buckminster Fuller
"The natural world is ignited by her prose and we see the world as an incandescent metaphor of the spirit...Few writers evoke better than she the emotion of awe, and few have ever conveyed more graphically the weight of silence, the force of the immaterial." — Robert Taylor, Boston Globe
"This little book is haloed and informed throughout by Dillard's distinctive passion and intensity, a sort of intellectual radiance that reminds me both Thoreau and Emily Dickinson." — Edward Abbey, Chicago Sun-Times
"A collection of meditations like polished stones--painstakingly worded, tough-minded, yet partial to mystery, and peerless when it comes to injecting larger resonances into the natural world." — Kirkus Reviews